Cappadocia
Travel tips you can trust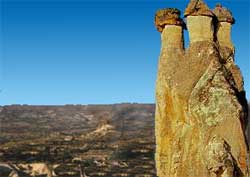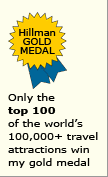 Why
Cappadocia
in Turkey is special
Cappadocia in Turkey has a surreal landscape fashioned by ancient floods and winds that partially eroded a volcanic based plateau. This process created numerous fanciful formations including the conical towers nicknamed fairy chimneys (see photo).
Cappadocia
tips and insights

Sightseeing
Viewing these fanciful formations inside, up close, and from afar gives you the impression that you are on a far-flung moon.

Dwellings and churches
The Cappadocia rock formations are relatively soft textured. This attribute led to habitation, which peaked in the 10th and 11th centuries.

Settlers
Fleeing persecuted people (mainly early Christians) carved dwellings and churches into the formations.

Communities
The new arrivals also dug into the many canyon cliff walls to produce multi-story communities reached only by ladders, steep foot paths and treacherous footholds.

You can sleep in the rooms
Today, some Cappadocia inns rent the primitive rooms (with modern amenities added). I got a thrill sleeping in one, realizing that it was hollowed out by its earliest inhabitant nearly a thousand years ago.

Derinkuyu
Cappadocia offers a host of other interesting experiences, including touring the underground city of Derinkuyu.

Why it was built
Local inhabitants temporarily hid in the subterranean Derinkuyu while invading armies marched overhead.

Complexity
This human warren has intricate room mazes going down eight levels. Concealed wells, air shafts and food supplies made it self-sufficient for long durations.

Location in Turkey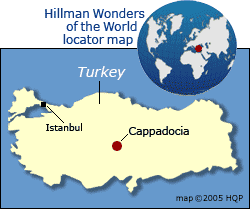 More Turkey tips and insights
In Istanbul
Basilica Cistern
Blue Mosque
Dolmabahce Palace
Grand Bazaar
Hagia Sophia
Topkapi Palace
In other Turkey areas
Antalya
Bodrum
Cappadocia
Divrigi
Ephesus Ruins
Hierapolis
Mount Ararat
Nemrut Dagi
Pamukkale
Pergamon Acropolis
Ruins of Troy
Home page
Turkey Wonders - Top 10 rankings
Turkish Culture and Tourist Office

World's Top 100 Wonders
World's Top 1000 Wonders
Site map
My credentials
About my website and criteria
Reader testimonials