Hagia Sophia
Travel tips you can trust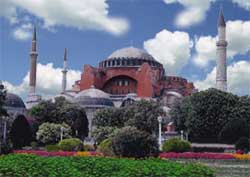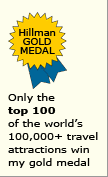 Why the
Hagia Sophia
in Istanbul is special
Modern-day architects marvel at how their 6th century counterparts could design the immense Hagia Sophia and its "impossibly" high-and-wide domed ceiling.
The Hagia Sophia
was first a church
then a mosque
then a museum

Church

532 to 537 AD
The structure was built by the Christian Emperor Justinian I as a Byzantine church. It served as a Byzantine church for the next 900 years.

Mosque

Beginning in 1453
The Islamic-faithed Ottomans took over Constantinople (now Istanbul).
They wasted little time in converting the Hagia Sophia into a mosque. It served the Muslims for almost 500 years.
During this time, the Ottomans painted over the Christian mosaics - and erected the four defining minarets we see today.

Museum

1934 to present
Turkey changed the Hagia Sophia's status from mosque to museum and uncovered the priceless Byzantine mosaics.

Location in Turkey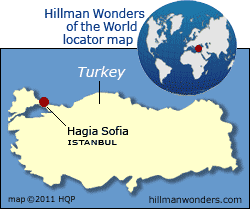 Learn More

for next Hagia Sophia page
More Turkey tips and insights
In Istanbul
Basilica Cistern
Blue Mosque
Dolmabahce Palace
Grand Bazaar
Hagia Sophia
Topkapi Palace
In other Turkey areas
Antalya
Bodrum
Cappadocia
Divrigi
Ephesus Ruins
Hierapolis
Mount Ararat
Nemrut Dagi
Pamukkale
Pergamon Acropolis
Ruins of Troy
Home page
Turkey Wonders - Top 10 rankings
Turkish Culture and Tourist Office

World's Top 100 Wonders
World's Top 1000 Wonders
Site map
My credentials
About my website and criteria
Reader testimonials