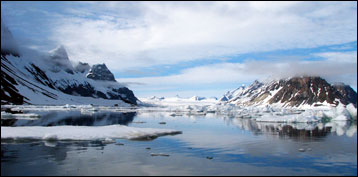 Arctic cruise
tips & insights

Top Arctic cruise appeals
Here are popular dos-and-sees:
Wildlife

Polar bears

Whales

Caribous or reindeers

Walruses

Arctic birds
Landscapes

Icebergs

Glaciers

Waterfalls

Volcanoes

Geothermal springs
Activities

Sightseeing

Photographing

Hiking

Kayaking
And ...

Midnight sun

Natives & cultures

Arctic cruise length
Single-nation cruises usually last about week. Those encompassing multiple countries typically range 12 to 24 days.

Ship size
Small and medium are the best for Arctic cruising. However, if a ship is too small, it won't handle rough open-sea weather well. Neither will converted research and icebreaker ships because of their shallow, rounded hulls.

Guides
Your cruise will be only as good as the quality of the expedition leader & staff, onboard lecturers, and shore excursion guides.

Definition of "Arctic"
There are two widely accepted definitions:

All the sea and land north of the Arctic Circle. (See red circle on first-page map.)

Everything north of the tree line.
The first definition is precise (a perfect circle). The second isn't. The distance of the tree line to the North Pole varies from place to place due to climactic conditions,
Iceland qualifies for the second definition, but just misses the first. That's why I prefer the second. It's truer to the traveler's experience.
Learn More

for Arctic cruise page 1

for Arctic cruise page 3
Learn these
cruise tips
Best cruise lines by category
29 cruise lines - descriptions
Top 10 destinations
Cabin selection
Cruise costs
Booking advice
Shore excursions
Cruise pros & cons
Cruise dining insights
Family cruising
Cruise etiquette
Ship communications
Cruise industry - facts
More cruise tips/insights
Cruise Lines International Association

World's Top 100 Wonders
World's Top 1000 Wonders
Site map
My credentials
About my website and criteria
Reader testimonials