Best 3 Galapagos
cruise ships
Cruise tips you can trust
Best luxury
Galapagos cruise ships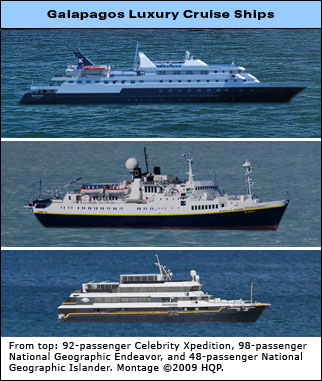 Top 3
Galapagos cruise ships

Celebrity Xpedition


Endeavor


Islander
Click the above blue links to go directly to the cruise lines' websites to book or for rates, schedules, and more.

All three of these
Galapagos cruise ships ...
are exceptional and worthy of your consideration. They attract an intelligent, educated, affluent, world-traveled clientele. All three also have first-rate food, spacious cabins and public spaces, well-appointed furnishings, and the Galapagos National Park's best naturalists.

Why the Celebrity Xpedition
is the best overall luxury
Galapagos cruise ship
Two factors give the Celebrity Xpedition an edge over the Endeavor and Islander:

Social scene and feel
The Celebrity Xpedition guests are sophisticated, as are the other two luxury ships. But Xpedition guests are more likely to be laid back and friendlier. This is important because you will be socializing with your fellow passengers all day – at meals, on excursions, and for drinks at the bar and on the deck. And enjoying their company and making new friends is one of the pleasures of cruising.

Ambiance and comfort
The Xpedition has spiffier, more comfortable furnishings - and more spacious cabins and public areas.
However, the Celebrity Expedition (and the other two ships featured above) is not perfect. No cruise ship could be. For example, a waiter forgot to place napkins on a table he reset. He did not promptly remedy the problem, even after a new party sat down at the table and pointed out the omission. But, overall, the Xpedition's shortcomings were few and far between.
Click Celebrity Xpedition to read my ten-page description of this ship.
Click for other categories
Best ships - Deluxe, first, & tourist classes
Best ships - More ship & boat tips



Best Galapagos ships by category
Boat type - pros & cons
Itinerary tips
Cost and booking tips

Best time to go
Getting there tips
Packing tips
Snorkeling tips
Diving tips
Some more helpful tips

Top 5 land & shore wildlife
Top 5 birds
Top 5 marine life

Charles Darwin - Brief bio
Interesting Galapagos facts
Celebrity Xpedition

World's Top 100 Wonders
World's Top 1000 Wonders
Site map
My credentials
About my website and criteria
Reader testimonials