Why the
Silver Spirit is special
Cruise tips you can trust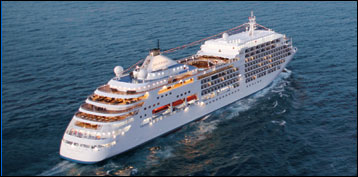 Top 10 reasons
why seasoned cruisers
admire the Silver Spirit
I informally surveyed passengers during a Caribbean cruise to learn why they liked the ship. The top ten reasons:

Service
It's friendly, skilled, and polished. And officers interact with guests.

Cabins
Every cabin is a suite and nearly all of them have large private verandas. The interiors are classy.

Suite photos and amenities

Dining
Food and dining ambiances score high. And you can eat in 11 distinct venues.


Main dining room

La Terrazza

Specialty restaurants

More dining options.

Cruise fare
It covers nearly all onboard basic expenses - including tips, alcoholic beverages, and more.

Passenger count
The max is 540 passengers. Larger ships carry up to ten times as many.

Ship's age
The Silver Spirit's young and spiffy (built in 2009).

Fellow passengers
They are sophisticated, sociable, and well-traveled. And there are few, if any children aboard (no screaming and scampering kids).

Shore excursions
You visit interesting ports that are too small for large boats. And tour groups are small sized.

Shore excursions

Onboard activities
They are geared for a sophisticated audience.

Public spaces
They're roomy, comfortable, and tastefully designed. Wait lines are rare.
More pointers
The Silver Spirit is not right for you if ...

You're taking your children and teenagers (there are no specialized facilities or programs for them)

You seek activities like waterslides and glitzy, big-stage Las Vegas and Broadway style production shows

Your budget is tight.
Is the Silver Spirit fautless?
No luxury cruise ship can be perfect, including the highly praised Silver Spirit. Failings are bound to occur because of the physical complexity of a sizable vessel and the large number of crew members involved. For instance, my omelet was missing the ordered cheese ingredient. However, deficiencies were few and far between.
Learn my other
Silver Spirit tips & insights

What it's like on the
luxury Silver Spirit ship
Why the Silver Spirit is special
Lounges and bars
Main dining room
La Terrazza restaurant
Specialty restaurants
More food venues
Pool, spa & fitness
More onboard activities
Shore excursions
More tips
Cabin photos and amenities
Crew photo gallery
More photos
Deck plans
Ship fact sheet
Tips on cruising
Best cruise lines by category
22 cruise lines - descriptions Top 10 destinations Cabin selection Cruise costs
Booking advice
Shore excursions Cruise pros & cons Cruise dining insights Family cruising tips Cruise etiquette Ship communications Cruise industry - facts More cruise tips/insights
Photo credit: Silversea Cruises

World's Top 100 Wonders
World's Top 1000 Wonders
Site map
My credentials
About my website and criteria
Reader testimonials