Top 5
Copenhagen
attractions
rankings you can trust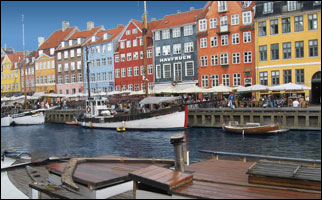 Best of
Copenhagen

Tivoli Gardens
This is the grand daddy of theme parks (opened in 1843) and is unlike all others. Its attractive lake-and garden setting is meticulously manicured. Tivoli Gardens features amusement park rides as well as classical, popular, and rock concerts. Restaurants and other eateries abound. At night, 100,000 lanterns and other lights create a magical ambiance. And the evening firework show dazzles.

Canal Tour
See Copenhagen's picturesque buildings from a sailor's eye view. Most Canal tours leave from Nyhavn.

Nyhaven (see photo)
Photographers will love Nyhavn. This long, narrow harbor is flanked on both sides by colorful old buildings. Outdoor cafes line the cobblestone sidewalks. And traditional sailing boats dock along side.

Little Mermaid
Hans Christian Andersen's fairytale maiden sits on a rock gazing out to sea, longing for her prince charming to return. The Little Mermaid is the second most photographed statue in the world (after the Statue of Liberty).
The Little Mermaid statue traveled to China in 2010 for display at the Shanghai World Expo. Five million Expo attendees saw her during her half-year visit. She returned later that year to Copenhagen.
Click PAGE TWO for rankings #



Most popular pages
Best Baltic cruises
Baltic cruise- When to go
Baltic cruise - More pointers
Top 5 Baltic ports of call
St Petersburg
Copenhagen
Stockholm
Tallinn
Helsinki
Other Baltic cruise ports

What it's like on a
luxury Baltic cruise ship
Silver Whisper

World Wonders - Top 100 rankings
World Wonders - Top 1000 list
My credentials
About my website and criteria
Reader testimonials
Site map