Top 3
Tallinn attractions
cruise tips you can trust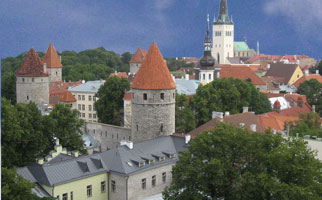 Why Tallinn
is special
Tallinn (the capital of Estonia) is one of the best preserved and interesting Medieval European old towns I've seen. It dates back nearly a thousand years.
Tallinn's
top 3 attractions

Old Town Square
It's ringed with picturesque merchant houses, outdoor cafes, an imposing Gothic town hall, and a 15th-century pharmacy.

St Olav's Cathedral
The steeple of this 13th century Tallinn church was once Europe's tallest. Climb its steps for a fabulous view.

Town Towers & Walls
Over time, they guarded the Medieval townfolk from invading armies from many lands.
Other leading
Tallinn attractions
They include:

Alexander Nevsky Cathedral

Cathedral of St Mary

Toompea Castle
Tallinn activities
not to miss

Follow your curiosity down the many narrow, winding, cobblestone streets lined with Medieval buildings.

See sweeping vistas of Tallinn and beyond from all the Upper Old Town outlooks.

Relax over lunch at one of the Old Town Square outdoor eateries. Great for architecture and people watching.
More tips & insights

Tallinn has two parts: a small Old Town and a large, sprawling modern-day town. It's the first that draws tourists and has two sections: Upper and Lower.

Old Town is best explored by foot - and with good walking shoes.

You'll likely see many Finn day-trippers because Helsinki is only 2 hours away by ferry.


Most popular pages
Best Baltic cruises
Baltic cruise- When to go
Baltic cruise - More pointers
Top 5 Baltic ports of call
St Petersburg
Copenhagen
Stockholm
Tallinn
Helsinki
Other Baltic cruise ports

What it's like on a
luxury Baltic cruise ship
Silver Whisper

World Wonders - Top 100 rankings
World Wonders - Top 1000 list
My credentials
About my website and criteria
Reader testimonials
Site map