Top 5
Stockholm attractions
rankings #1 to 3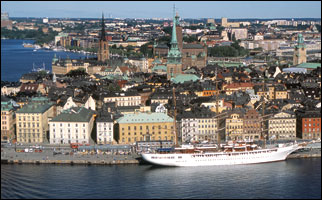 Best of
Stockholm

Gamla Stan (Old Town)
Have fun wandering down its narrow, winding, cobblestone streets lined with museums, shops, galleries, and cafes. Gamla Stan is also home to:

Royal Palace
Tour richly furnished royal apartments. See the changing of the guard.

City Hall
Visit the hall where Nobel Prizes are awarded. Climb City Hall's tower for a bird's eye view of Stockholm.

Vasa Museum
The 70-meter (230-foot) long Vasa warship was adorned with elaborately carved sculptures, making it the pride of the sea. It was launched in 1628 with great fanfare. Within minutes, it sank and lay forgotten. In the 20th century, the Vasa was discovered, raised, restored, and placed in a custom exhibition building that allows you to see multi-level interiors.

Other museums
Stockholm has dozens of other quality museums spanning a variety of focuses. They include:

Skansen Open-Air Museum
This recreated village illustrates traditional Swedish life of bygone centuries with historic buildings and costumed craft demonstrators.

National Museum
It exhibits artistic works from Medieval to modern times. Artists include Goya, Rembrandt, Renoir, and Rubens.

Modern Museum
Masters like Dali, Matisse and Picasso are represented.
Click PAGE TWO for rankings #




Most popular pages
Best Baltic cruises
Baltic cruise- When to go
Baltic cruise - More pointers
Top 5 Baltic ports of call
St Petersburg
Copenhagen
Stockholm
Tallinn
Helsinki
Other Baltic cruise ports

What it's like on a
luxury Baltic cruise ship
Silver Whisper

World Wonders - Top 100 rankings
World Wonders - Top 1000 list
My credentials
About my website and criteria
Reader testimonials
Site map