More
Baltic cruise ports
cruise tips you can trust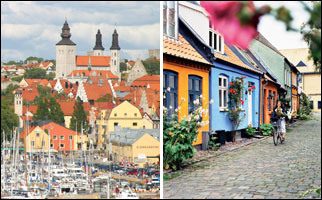 These Baltic ports didn't make my selective Top 5 Baltic port list, but have special qualities that attract visitors.
Listing is alphabetical.

Aarhus (right photo)
Denmark

Den Gamle By. It's an open-air museum with reconstructed old Danish buildings with traditional furnishings (right photo).

Gdynia
Poland

Ship museum tours. Best two ships: A World War II destroyer and a 1909
three-masted frigate.

Kristiansand
Norway

The seaport's waterfront in the Fiskebrygga (fish market area). Offers a good photo opportunity.

Mariehamn
Finland

Four-masted windjammer museum tour. Ship launched in 1903 and sailed as far as Australia.

Oslo
Norway

Museum hopping. Stars include Viking Ship, Kon-Tiki, Munch, Polar Ship, and National Gallery.

Riga
Latvia

Old Town. For a memorable bird's eye view of this tight-packed area, take the elevator in St Peter's Basilica.

Ronne
Denmark

The Bornholm heritage museum and the Erichsen house & garden museum are worthy venues in this laid-back island town.

Rostock
Germany

For many cruisers, it's the daytrip shore-excursion gateway to Berlin (several hours away by road or rail).

Visby (left photo)
Sweden

The Old Town is camera-friendly and is surrounded by a tower-perched Medieval defensive wall.

Other Baltic
cruise ports
Elsinore, Goteborg, Helsingborg, Kalmar, Karlshamn, Karlskrona, Kemi, Korsoer, Kotka, Malmo, Saaremaa, Turku, and Umea.


Most popular pages
Best Baltic cruises
Baltic cruise- When to go
Baltic cruise - More pointers
Top 5 Baltic ports of call
St Petersburg
Copenhagen
Stockholm
Tallinn
Helsinki
Other Baltic cruise ports

What it's like on a
luxury Baltic cruise ship
Silver Whisper

World Wonders - Top 100 rankings
World Wonders - Top 1000 list
My credentials
About my website and criteria
Reader testimonials
Site map