Philippine
cuisine tips
page 2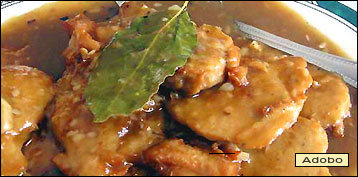 More
tips and insights
on Philippine cuisine

Cuisine handicaps
Why isn't Philippine cuisine as popular around the world as Thai and Vietnamese cuisines? Answer: It lacks the visual appeal and variety of seasonings enjoyed in Thai and Vietnamese food preparations.

Visual
Philippine dishes often lack the on-the-plate wow factor. The food is usually not enticingly presented and an excessive number of entrees are brownish.

Seasoning
There tends to be too much sameness in seasonings among Philippine dishes. And the dishes, though commendably tasty, are seldom refined and subtle.

The three key tastes
The three long-established tastes that most distinguish Philippine cuisine are the liberal use of salt, vinegar and garlic.

The fourth taste
In the last half century, a fourth taste has emerged: sweetness. Today sugar is used convincingly in a broad array of traditionally non-sweet preparations, including ground meat.

Seafood
The Philippines has an archipelago with 7,017 islands. Consequently, fish and shellfish play a major role in the national diet.

Turo Turos
Food in most eateries is not served table-service style. Rather, it is displayed on steam tables in turo turo ("point point") or cafeteria establishments.
Learn More

for next Philippine food tip page
Also learn the tips
and insights in these
Philippine pages
Food and beverage
Top 10 famous Philippine dishes
25 more Philippine cuisine specialties
Philippine menu translator
Top Philippine beverages
Philippine cuisine tips and insights
Travel wonders
Top 7 wonders of the Philippines
Photo by Museinthecity - CC BY 2.0
Philippine Department of Tourism

Rankings
Peasant recipes
World wonders
Also read
Site map
About me and my credentials
About my website
Reader testimonials
Email me your opinion