Safari vehicle
helpful info page 4 of 5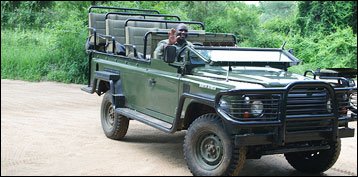 Safari vehicle
tips & insights

Open safari vehicles
In Kenya and Tanzania, virtually all safari vehicles have fixed roofs. In contrast, those used by luxury lodges in Kruger private reserves are completely topless. This gives you more of an up close and personal experience with the wildlife.

Where to sit
in a safari vehicle
There are three passenger rows. Each has its advantages and disadvantages.

Lower row
It is just behind the commentating ranger. And, it is the easiest to get into and out of. However, your view is less elevated than those in the other two rows.

Upper row
It's better for seeing over tall grass. But it is more difficult to climb in and out of than the lower row.

Middle row
It is a good compromise for listening to the ranger and viewing the wildlife. However, it is the most difficult to step into and out of.

Wear layers on
winter game drives
Evenings and early mornings are layered-sweater-cold, but days warm up to
short-sleeve temperatures.
Learn more helpful info
Page 1 - Getting there
Page 2 - When to go
Page 3 - Cost
Page 5 - More tips & insights
Learn my other
Luxury Safari tips and insights
NGALA
Intro
Tented Safari Camp
Walking Safaris Camp
Safari Lodge
PHINDA
Intro
Forest Lodge
Getty Lodge
Mountain Lodge
Vlei Lodge
Walking Safari Camp
Rock Lodge
Zuka Lodge
MORE POINTERS
Why a luxury safari is special
What you do on a typical day
Helpful info
MORE SAFARI TIPS
Top 5 safari destinations
Kenya vs Tanzania
Top 10 safari mistakes
Big 5 safari animal list
Animal facts AND tidbits
Click &Beyond to visit its website

World's Top 100 Wonders
World's Top 1000 Wonders
Site map
My credentials
About my website and criteria
Reader testimonials