Chocolate Hills
Travel tips you can trust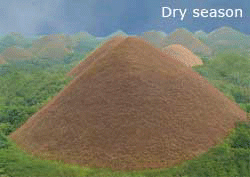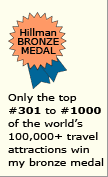 Why the
Chocolate Hills
are special
Over a thousand tall, natural conical domes dot the landscape in the center of the island of Bohol. Most of the Chocolate Hills soar 30 to 50 meters (100 to 160 feet). The tallest measures 130 meters (430 feet). During the dry season, the grass blanketing these formations turns brown, giving the hillocks the appearance of gargantuan Chocolate Kiss candies.
Chocolate Hills
tips and insights

Two popular legends
One tells us that the Chocolate Hills are the stones and sand that two fighting giants hurled at each other. The other says they are the teardrops shed by a giant for his beloved mortal who passed away

How were they formed?
No one knows for certain. Geologists have different theories, but most agree that the formations are the wind-and-rain weathered remnants of an uplifted ancient limestone seafloor.

Unique?
They are rare, but not unique. Similar mounds exist elsewhere, notably in Indonesia. However, the Chocolate Hills are by far the most symmetrical and spectacular in the world.
Learn More

for Chocolate Hills - Page 2
Learn my other
Philippine tips and insights
Top 7 Philippine Wonders
Philippine wonder map
Philippine wonder photo gallery
Best time to visit Manila
Banaue Rice Terraces
Chocolate Hills
Mayon Volcano
Pamalican Island
Taal Volcano
Tubbataha Reef
Underground River
Honorable mentions
Batad & Bangaan terraces
Banaue Rice Terraces photo gallery
Banaue Festival photo gallery
Country facts & tidbits
Learn Filipino/Tagalog phrases
Philippine cuisine
Philippine Department of Tourism
WOW Philippines

World's Top 100 Wonders
World's Top 1000 Wonders
Site map
My credentials
About my website and criteria
Reader testimonials