Silver Shadow dining
photos and descriptions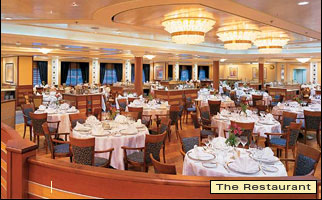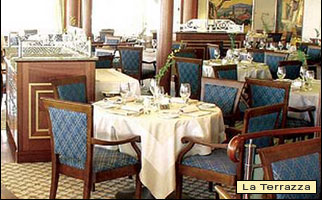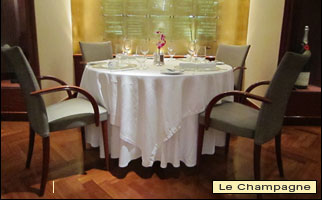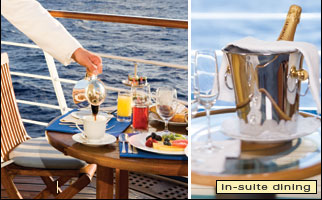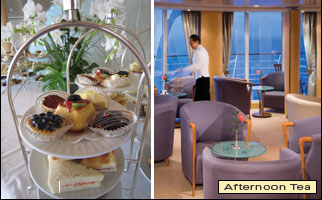 The Silver Whisper
dining experience
You have a choice of several interesting dining venues (see photos above). I found the food and service to be consistently commendable. Complimentary red and white wines poured at meals are well selected. Wines from a special cellar list are also available for a surcharge.

The 3 major dining venues

The Restaurant
This is the Silver Whisper's main and largest dining room. Tables and seating are spacious. You dine when, and with whom you want.

La Terrazza
It has inside and outdoor deck tables. During the day, La Terrazza's casual breakfast and lunch buffets are popular. At night, lights are dimmed and it becomes a full-menu Italian restaurant, featuring a different regional Italian cuisine each night.

Le Champagne
This small, intimate, candlelit room offers a six-course tasting menu (surcharge). Fine wines and cognacs are expertly paired with the courses.

Other food venues

Pool Grill
Light fare such as burgers, sandwiches, pizzas, and salads are served at shaded seaside tables next to the pool.

In-suite dining
Order breakfast, lunch, snacks, full-length course-by-course dinner in your suite. Your waiter will set the table inside or on the veranda, as you wish.

Afternoon tea
An English-style tea with scones, finger sandwiches, and pastries are served in the Panorama Lounge at 4 p.m. Perfect for relaxing after a shore excursion.

Hors d'ouevres
They are passed around in the lounges during the pre-dinner cocktail hour.
Learn my other
Silver whisper
tips and insights
Activities - Dining
Activities - Bars/lounges/entertainment
Activities - Pool, spa, & fitness
Activities - More
More tips and insights
Photos of other venues
Deck plans
Suite photo gallery
Silver Whisper fact sheet

Most popular pages
Best Baltic cruises
Baltic cruise- When to go
Baltic cruise - More pointers
Top 5 Baltic ports of call
St Petersburg
Copenhagen
Stockholm
Tallinn
Helsinki
Other Baltic cruise ports


World Wonders - Top 100 rankings
World Wonders - Top 1000 list
My credentials
About my website and criteria
Reader testimonials
Site map