Belize Barrier Reef
Caribbean tips you can trust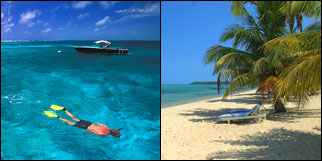 Why the
Belize Barrier Reef
and atolls are special
They are fabulous underwater paradise for divers. They offer a rich diversity of tropical fish and coral formations set in warm, remarkably clear waters.
Tips & insights on
the Belize Barrier
Reef and atolls

Blue Hole
This sinkhole on Lighthouse Reef is the most famous dive spot. It's 120 meters (400 feet) deep and has luxuriantly blue water with wonderful clarity and striking limestone formations. Jacques Cousteau put the Blue Hole on the world-diving map.

Hol Chan Marine Reserve
This is Belize's most acclaimed diving area. Hol Chan is on the tip of the Ambergris, a northern cay where many divers stay.

Other major diving destinations
They include:

Elbow (on Turneffe Reef)

Glover's Reef (atoll)

Halfmoon Caye (on Lighthouse Reef )

North vs south
The north has the better diving infrastructure, including resorts and dive shops.

Snorkeling
The Belize Barrier Reef and the atolls also offer snorkelers memorable experiences.

Fishing
There is terrific fishing among the reefs and atolls, and beyond.

Underwater photography
The excellent water visibility coupled with vividly hued fish and coral gardens assures great photos.

Size
The reef is about 300 kilometers (180 miles) in length. It is the middle part of the Mesoamerican Barrier Reef, which is the world's second largest. Only the one in Australia is bigger.

Pre- and post excursions
You're in a good location to take inland excursions to the spectacular Mayan ruins of Xunantunich (Belize) and Tikal (Guatemala).
Location map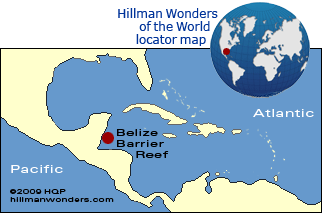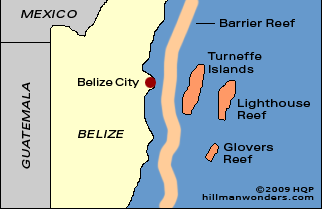 Learn my other
Caribbean Island tips
Top 10 Caribbean Islands

Jamaica


St Barts


St Lucia


British Virgin Islands


Barbados


Bahamas


St Martin / St Maarten


Aruba


Cayman Islands


Dominican Republic
Best time to go
Best islands for sports
Best islands for resorts
Best islands for family resorts
Best islands in 8 other categories
How to pronounce island names
Caribbean Island locator maps
Caribbean Islands - home page
Best Caribbean cruises
Famous Caribbean food
For the two photos in my montage: CTO-Demian Solano, Belize Tourist Board. Both photos are used with permission.

World's Top 100 Wonders
World's Top 1000 Wonders
Site map
My credentials
About my website and criteria
Reader testimonials