The Bahamas
Caribbean tips you can trust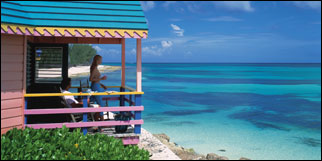 Why
the Bahamas
is special
The Bahamas attracts 1.5 million visitors per year. This makes it one of the world's most popular tourist destinations.
Bahamas
tips & insights

Top 2 tourism attractions

Paradise Island
This island is a bridge away from the capital city Nassau and is home of the mammoth Atlantis Resort which features an interesting aquarium and a unique water slide.

Grand Bahama Island
Its tourism traffic has and will continue to grow thanks to its nearness to Florida. Freeport is the main city.

Bahamas' Out Islands
They are located south of the main tourism islands. They attract visitors seeking a low-keyed, tranquil setting. The pink-sand Harbor Island beach is especially alluring.

Tourism
It accounts for 50% of the country's gross
national product.

Weekenders
The Bahamas are only 80 kilometers or 50 miles from Florida at the nearest point. This encourages many Floridians to make frequent weekend trips. Some even have weekend homes here.

Spring Break
If you're a college student, you will likely enjoy being in The Bahamas during spring break (the period varies annually, occurring somewhere from late February to early April). If you're not a student and you seek peace and quiet, consider other dates.
Learn More

for more Bahamas tips
Location map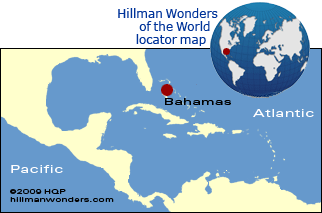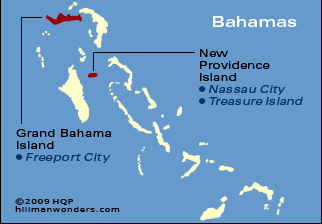 Learn my other
Caribbean Island tips
Top 10 Caribbean Islands

Jamaica


St Barts


St Lucia


British Virgin Islands


Barbados


Bahamas


St Martin / St Maarten


Aruba


Cayman Islands


Dominican Republic
Best time to go
Best islands for sports
Best islands for resorts
Best islands for family resorts
Best islands in 8 other categories
How to pronounce island names
Caribbean Island locator maps
Caribbean Islands - home page
Best Caribbean cruises
Famous Caribbean food
Bahamas photo is the property of the Bahamas Tourist Office and is used with permission.

World's Top 100 Wonders
World's Top 1000 Wonders
Site map
My credentials
About my website and criteria
Reader testimonials