Cayman Islands
Caribbean tips you can trust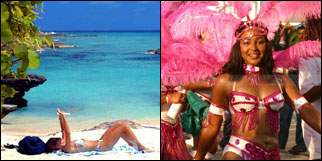 Why the
Cayman Islands
are special
The Cayman Islands has one of the world's greatest dive sites. It also offers outstanding fishing. And, it is one of the world's major international banking centers.
Cayman Islands
tips & insights

The islands
The Cayman Island comprises three islands:

Grand Cayman

Little Cayman

Cayman Brac

Grand Cayman Island
This is by far the biggest and most populated, touristed, and commercially developed island.

Stingray City is the Cayman Islands' most famous attraction. You snorkel among hundreds of Stingrays. They are not afraid of you and there's no need to be that of them. You can even feed them out of your hand.

You'll find most of the beachfront resorts and atmospheric restaurants on the white-sand Seven Mile Beach.

George Town is the capital and economic center of the Cayman Islands. It can seem hectic to tranquility seekers, especially when cruise ships unload bargain-hunting shoppers.

Little Cayman Island
It has the Bloody Bay Wall, one of the world's greatest dive sites. It's on the upper part of the extremely deep Cayman Trench. Little Cayman also has an amazingly large iguana population.

Cayman Brac Island
It's the most laid back of the islands. Divers travel to Cayman Brac to explore the well-known Captain Tibbets shipwreck.
Learn More

for more Cayman Islands tips
Location map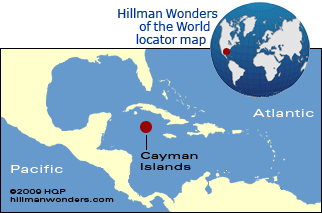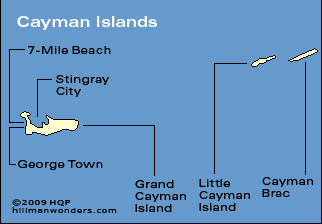 Learn my other
Caribbean Island tips
Top 10 Caribbean Islands

Jamaica


St Barts


St Lucia


British Virgin Islands


Barbados


Bahamas


St Martin / St Maarten


Aruba


Cayman Islands


Dominican Republic
Best time to go
Best islands for sports
Best islands for resorts
Best islands for family resorts
Best islands in 8 other categories
How to pronounce island names
Caribbean Island locator maps
Caribbean Islands - home page
Best Caribbean cruises
Famous Caribbean food
The two photos in my montage are the property
of the Cayman Islands Department of Tourism
and are used with permission.
Cayman Islands Department of Tourism

World's Top 100 Wonders
World's Top 1000 Wonders
Site map
My credentials
About my website and criteria
Reader testimonials