British Virgin Islands
Caribbean tips you can trust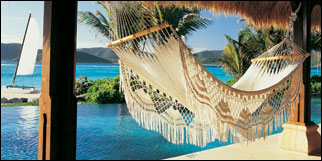 Why the
British Virgin Islands
are special
The British Virgin Islands (nicknamed BVI) is celebrated for its sailing, fishing and beaches - and for its exclusive Virgin Gorda Island.
The 3 most popular
British Virgin Islands
Among its several dozen (mostly uninhabited)
islands, three are the most popular with visitors:

Virgin Gorda


Tortola


Jost Van Dyke

Virgin Gorda
It's has been popular with the rich, famous and powerful for a long time.

The elite includes Sir Richard Branson, the billionaire founder of Virgin Airlines. He has his own small private island, Necker, which he rents out when he's not using it. Necker Island is the Caribbean's most exclusive and expensive resort. Update: In August 2011, a lightning strike burnt down the main complex. It will be rebuilt.

Little Dix Bay is another superlative resort.

Virgin Gorda as a whole has a well-developed tourism infrastructure of outstanding resorts, villas and restaurants - and a ritzy yacht haven.

The Bath is the best Virgin Gorda (and some say BVI's) best attraction. It comprises a collection of colossal, smooth rock boulders standing along the shore. It's fun to squeeze between them on foot or by snorkeling.

Virgin Gorda means "fat virgin" in Spanish.

Tortula
This is the most populated British Virgin Island. Its also home to the nation's capital, Road Town. Although Tortola has less cache and overall appeal than Virgin Gorda, it has two satellite islands sporting luxury resorts: Guana Island and Peter Island.

Jost Van Dyke
This small and quiet island is known for its pristine white-sand beaches. It was named for a Dutch pirate who used the island as his base. The first name is pronounced "yost" (rhymes with "toast").
Learn More

for more British Virgin Islands tips
Location map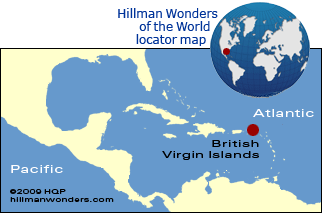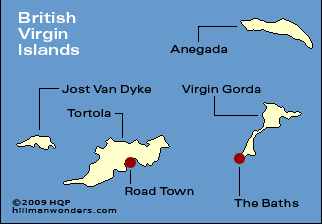 Learn my other
Caribbean Island tips
Top 10 Caribbean Islands

Jamaica


St Barts


St Lucia


British Virgin Islands


Barbados


Bahamas


St Martin / St Maarten


Aruba


Cayman Islands


Dominican Republic
Best time to go
Best islands for sports
Best islands for resorts
Best islands for family resorts
Best islands in 8 other categories
How to pronounce island names
Caribbean Island locator maps
Caribbean Islands - home page
Best Caribbean cruises
Famous Caribbean food
The British Virgin Islands hammock photo is the property of the Caribbean Tourism Organization and is used with permission
British Virgin Islands Tourist Board

World's Top 100 Wonders
World's Top 1000 Wonders
Site map
My credentials
About my website and criteria
Reader testimonials