Dominica
Caribbean tips you can trust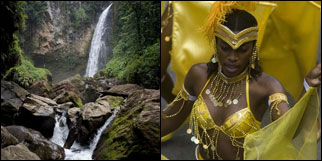 Why
Dominica
is special
It is justifiably nicknamed the "Nature Island of the Caribbean". It's not for the typical tourist. It's for adventure travelers.
Dominica
tips & insights

Why tourism is low keyed
Several factors keep packaged tour groups away:

Runway
It is one of the shortest in the world. Consequently, there are no direct flights from America and Europe.

Pampering resorts
They don't exist on this small island.

Nightlife and fine dining
Again, they are lacking.

Beautiful beaches
Ditto.

What Dominica offers
You're in heaven if you love to involve yourself directly with nature.

Rainforest hiking trails
They take you through the rugged interior mountains of the Morne Trois Pitons National Park. They are covered with lush tropical vegetation. You see stunning Trafalgar Falls, the astonishing Boiling Lake (heated by underground volcanic activity), and other natural surprises. It's like exploring the Lost World.

Diving and snorkeling spots
Dominica has many underwater treats and each is uncrowded.
Learn More

for more Dominica tips
Location map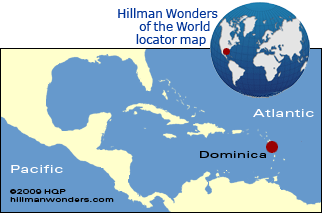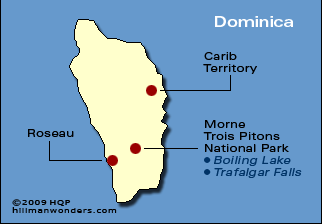 Learn my other
Caribbean Island tips
Top 10 Caribbean Islands

Jamaica


St Barts


St Lucia


British Virgin Islands


Barbados


Bahamas


St Martin / St Maarten


Aruba


Cayman Islands


Dominican Republic
Best time to go
Best islands for sports
Best islands for resorts
Best islands for family resorts
Best islands in 8 other categories
How to pronounce island names
Caribbean Island locator maps
Caribbean Islands - home page
Best Caribbean cruises
Famous Caribbean food
The two Dominica photos in my montage are
copyrighted by the Discover Dominica Authority
and are used with permission.

World's Top 100 Wonders
World's Top 1000 Wonders
Site map
My credentials
About my website and criteria
Reader testimonials