Best 5
Galapagos Islands
rankings you can trust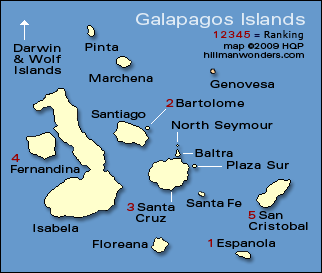 Best 5 islands
in the Galapagos

Espanola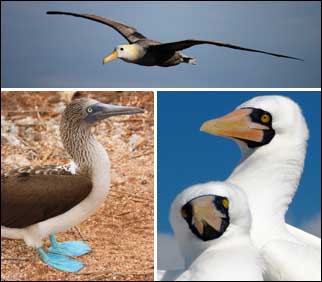 It is the southernmost island of the Galapagos Islands. Espanola teems with wildlife.


Outstanding wildlife
Enjoy the most absorbing wildlife trail in the Galapagos. It starts at Punta Suarez. Explore the nesting site of nearly all of the world's waved albatrosses (top photo). They have wing spans up to 2.5 meters or 8 feet. Also walk through the well-populated nesting sites of both the blue-footed (bottom left) and the nazca (bottom right) boobies. And hike along a striking cliffscape. And you pass a mighty blow hole.

Gardner Bay
Swim, snorkel and sunbathe at the white-sand, crescent-shaped.

Bartolome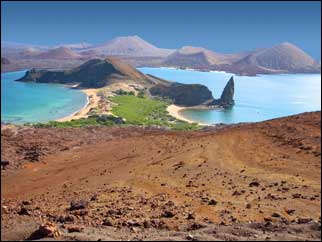 This small island has a Mars-like landscape, a photographer's dream.


Lookout
Hike up 379 steps to the lookout platform on Bartolome's volcano peak. You'll savor a panoramic view capturing the "Martian terrain" joined with a verdant isthmus featuring the jagged 30-meter (100-foot) high Pinnacle Rock. Santiago Island is in the background.

Pinnacle Rock
Snorkel with the Galapagos penguins beneath the towering Pinnacle Rock.
Click for more rankings
Click PAGE TWO for island rankings #




Click MORE ISLANDS for runners-up list



Best Galapagos ships by category
Boat type - pros & cons
Itinerary tips
Cost and booking tips

Best time to go
Getting there tips
Packing tips
Snorkeling tips
Diving tips
Some more helpful tips

Top 5 land & shore wildlife
Top 5 birds
Top 5 marine life

Charles Darwin - Brief bio
Interesting Galapagos facts
Celebrity Xpedition

World's Top 100 Wonders
World's Top 1000 Wonders
Site map
My credentials
About my website and criteria
Reader testimonials