Galapagos snorkeling
Cruise tips you can trust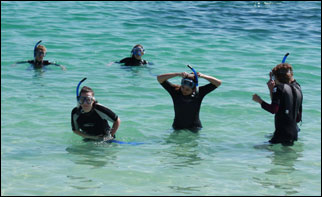 Why snorkeling in the
Galapagos is special
The Galapagos Islands are heralded as a superb snorkeling destination by enthusiasts around the world. And a high percentage of the visitors who come to the islands participate.

Snorkeling tips
Snorkeling emphasis
If you want to do a lot of snorkeling, pick a boat that emphasizes snorkeling on at least even footing with land excursions.
Snorkeling gear
Many cruise boat lend or rent (for a reasonable fee) snorkeling gear: mask, snorkel, fins, and sometimes wet suit. If the boat takes gear reservations, make them early for your sizes because sometimes the supply may be reserved by other passengers before you arrive. Better yet, bring your own gear to ensure availability, quality and good fit. (Note: A few boats like the Celebrity Xpedition cruise ship not only lend you the good-conditioned gear without charge, they stock an ample supply (including wet suits) to satisfy all their passengers.
Wet suit
From June to December, you will probably need a lightweight wet suit. However, in August and September, a medium weight wet suit is sometimes preferable.
Seasonal conditions
Be aware that currents can be strong during the dry season: From June to December, and particularly in August and September. (This issue is more critical for divers because they usually go farther off shore.

Most interesting
snorkeling site
The favorite snorkeling site of most visitors is the one next to Pinnacle Rock on Bartolome Island. The setting is picturesque and chances are you will be snorkeling with frisky Galapagos penguins.



Best Galapagos ships by category
Boat type - pros & cons
Itinerary tips
Cost and booking tips

Best time to go
Getting there tips
Packing tips
Snorkeling tips
Diving tips
Some more helpful tips

Top 5 land & shore wildlife
Top 5 birds
Top 5 marine life

Charles Darwin - Brief bio
Interesting Galapagos facts
Celebrity Xpedition

World's Top 100 Wonders
World's Top 1000 Wonders
Site map
My credentials
About my website and criteria
Reader testimonials