Galapagos boat type

small yacht issues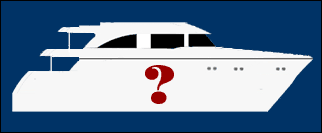 Problems with
small yachts
Small yachts carry 8 to 25 passengers, with 16 being the average.
Many vacation-planners get carried away with a mistaken romantic notion of what cruising on a small yacht in the Galapagos entails.

Rocking
Small yachts rock noticeably more than large cruise ships - both when moored and when traveling on the open sea between islands. This could make you seasick, which would spoil your vacation.

Catamarans
Although catamaran yachts rock less than conventional yachts, they rock appreciably more than Galapagos cruise ships.

Cramped
Cabins and public spaces are cramped, beds are narrow, bunks are a possibility, bathrooms are tiny, and toilets might have to be shared, and loss of electricity and hot water are not uncommon.

Storage
Cabin storage space is typically minuscule.

Deck
Open deck space for sunbathing or sitting and relaxing is minimal.
- this list continues on next page
Click for critiques
Small yacht issues (cont)
Small yacht positives / Sailing ship negatives
Luxury ship positives



Best Galapagos ships by category
Boat type - pros & cons
Itinerary tips
Cost and booking tips

Best time to go
Getting there tips
Packing tips
Snorkeling tips
Diving tips
Some more helpful tips

Top 5 land & shore wildlife
Top 5 birds
Top 5 marine life

Charles Darwin - Brief bio
Interesting Galapagos facts
Celebrity Xpedition

World's Top 100 Wonders
World's Top 1000 Wonders
Site map
My credentials
About my website and criteria
Reader testimonials