Galapagos
cost & booking tips
Cruise tips you can trust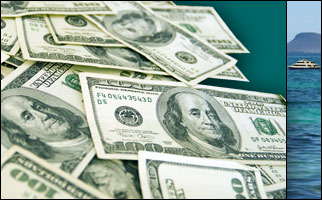 Average
cruise cost
To give you an approximate idea of the cost of a Galapagos cruise, I list below the realistic average high-season, double-occupancy per-person rates for a ship's standard cabins. (For their low season rates, subtract roughly 10%.)

Luxury class boat - $500 per day

Deluxe class boat - $400 per day

First class boat - $300 per day

Tourist class boat - $200 per day
This means an 8-day (7-night) Galapagos cruise will set you back roughly $1,600 for tourist, $2,400 for first class, $3,200 for deluxe, and $4,000 for luxury level. Those figures include accommodations, meals and shore excursions. They normally do not include air transportation, park fees, port surcharges, tips, beverages, laundry, shopping, and communication charges.

Not the time
to skimp
Book the best Galapagos cruise you can afford. The $800 per week difference between deluxe and luxury (and between first class and deluxe) is not much when you consider the level of service and facilities you will enjoy - and the memories you will forever cherish.

You get what
you pay for
Quality cruise ships charge more because they pay more for the crew, naturalists, food, and the cost of constructing and furnishing the ship (which translates into a finer, more comfortable cruise). Low-quality yachts pay considerably less in these expense categories.
Click for more pointers
Cost & booking tips - PAGE TWO



Best Galapagos ships by category
Boat type - pros & cons
Itinerary tips
Cost and booking tips

Best time to go
Getting there tips
Packing tips
Snorkeling tips
Diving tips
Some more helpful tips

Top 5 land & shore wildlife
Top 5 birds
Top 5 marine life

Charles Darwin - Brief bio
Interesting Galapagos facts
Celebrity Xpedition

World's Top 100 Wonders
World's Top 1000 Wonders
Site map
My credentials
About my website and criteria
Reader testimonials