More Galapagos tips
page 1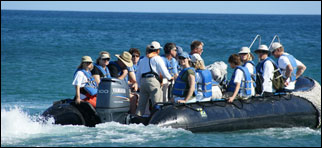 Dry and wet landings
Some shore excursions have dry landings, others, wet landings. With the first, you step out of the Zodiac directly on a dock or lava rock. With the second, you slide over the edge of the Zodiac to land into ankle- or calf-deep water, then walk ashore. For the latter, water-friendly sandals are useful.
Trails
Hiking paths at the visitor sites sometimes cross small-boulder fields or rough lava terrain. This requires reasonable balance and sure-footedness. You also need to be in good physical shape because some hikes are long and one requires climbing 379 steps.
Hiking, though, normally goes at a leisurely pace with plenty of stops along the way to view the wildlife and listen to your naturalist's educational chat.
Galapagos National
Park Rules
To minimize the impact of visitors on the wildlife and environment, the park crafted strict rules.
They include:

Do not set foot on the islands unless accompanied by a licensed guide,

Do not stray from the marked paths.

Do not touch, handle, feed, or water the wildlife.

Do not use your camera flash when you are near the wildlife.

Do not leave any litter on the islands, or toss anything off your boat or Zodiac.

Do not remove or disturb anything (including a pebble or shell).
As the mantra goes,
leave footprints, take photos.
Click for other categories
PAGE TWO - More helpful tips
PAGE THREE - More helpful tips



Best Galapagos ships by category
Boat type - pros & cons
Itinerary tips
Cost and booking tips

Best time to go
Getting there tips
Packing tips
Snorkeling tips
Diving tips
Some more helpful tips

Top 5 land & shore wildlife
Top 5 birds
Top 5 marine life

Charles Darwin - Brief bio
Interesting Galapagos facts
Celebrity Xpedition

World's Top 100 Wonders
World's Top 1000 Wonders
Site map
My credentials
About my website and criteria
Reader testimonials