Galapagos cruise
best time to go
Cruise tips you can trust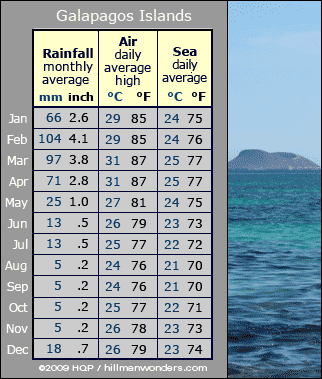 The "bad"
Galapagos season
The Galapagos has none. Really. The climate is suitable for year-round visits. And wildlife viewing is always stimulating. Of course, each season has its advantages.
Just two
climate seasons
Because the Galapagos Islands straddle the equator, the region does not have four seasons. It has two:
Wet season: January to March
Dry season: April to December
Myth:
The Galapagos Islands
dry season is better
than its wet one
For most travel destinations on our planet, the dry season is preferable to the wet one. In the Galapagos Islands, the opposite is true.
Consider:

Galapagos sky
The skies are more often gray than blue during the driest time of the year (June to December). This is especially true during August and September when persistent overcast and thin cloud layers filter the sunlight.

Rain
The rains during the Galapagos wet season (January to May) are short-lived and occur mainly in the afternoon. They pass quickly, leaving behind gorgeous blue skies and fostering green hillsides. Moreover, it rains less during the Galapagos Islands wet season than it does at most of the world's major tourist destinations.

Temperature
Air and sea temperatures are warmest in the wet season. During the dry time of the year, the temperatures in the Galapagos Islands can become a tad chilly (though it's not unpleasant if you're suitably dressed).

Galapagos sea condition
The sea is calmest in the wet season. During the dry period (and especially in August and September), the sea can become choppy. This could make your cruise boat pitch and roll more than usual (not good if you're prone to sea sickness). And, sea surges could add a level of difficulty to your shore excursion landings.
Click for other categories



Best Galapagos ships by category
Boat type - pros & cons
Itinerary tips
Cost and booking tips

Best time to go
Getting there tips
Packing tips
Snorkeling tips
Diving tips
Some more helpful tips

Top 5 land & shore wildlife
Top 5 birds
Top 5 marine life

Charles Darwin - Brief bio
Interesting Galapagos facts
Celebrity Xpedition

World's Top 100 Wonders
World's Top 1000 Wonders
Site map
My credentials
About my website and criteria
Reader testimonials