Dining on the
Celebrity Xpedition
Galapagos cruise
Darwin's Restauranat

The Celebrity Xpedition's main dining room has open seating and is large enough to accommodate all 92 passengers simultaneously.

It is the most inviting among Galapagos cruise ships. The roomy tables are set with white linen & napkins - and crystal wine glasses. The plush chairs and banquettes are comfortably well spaced. And at night, the soft lighting is flattering.

The Darwin's Restaurant service is attentive, accommodating, and personalized.

Dinner is waiter service. It comprises four courses with a choice of selections for each course. The culinary theme changes from night to night. Well-chosen red and white house wines from Chile and Argentina are poured.

Breakfast and lunch are buffet service with a chef table on the side.
Beagle Grill outdoor buffet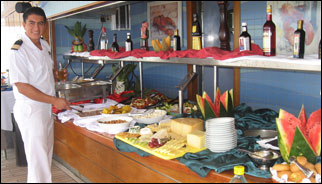 The casual Beagle Grill is the Celebrity Xpedition's most popular lunch venue.

The lunch buffet theme changes daily. It could be, for example, Italian, Mexican, Oriental, Ecuadorian, or fresh seafood from the Galapagos waters.

One night the Beagle Grill becomes the main dinner venue. Tables are set with white linens and napkins - and the chefs barbecue meats and seafood on deck. It's one of the cruise highlights.
Room service
It's complimentary and available 24 hours a day. You order off the room service menu. You can also use the the Darwin's Restaurant menu during the dinner period.



Best Galapagos ships by category
Boat type - pros & cons
Itinerary tips
Cost and booking tips

Best time to go
Getting there tips
Packing tips
Snorkeling tips
Diving tips
Some more helpful tips

Top 5 land & shore wildlife
Top 5 birds
Top 5 marine life

Charles Darwin - Brief bio
Interesting Galapagos facts
Celebrity Xpedition

World's Top 100 Wonders
World's Top 1000 Wonders
Site map
My credentials
About my website and criteria
Reader testimonials