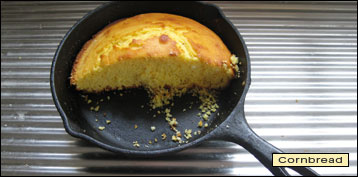 More
Southern cuisine
tips and insights

Creole and Cajun Cuisines
They rightfully sit under the Southern cuisine umbrella. However, because of their fame and highly distinctive character, I created a separate web page for them.
See my Creole and Cajun web page

Slaves
The Black slave women who cooked for their masters in the main-house kitchen played a significant role in the development of Southern cuisine. For instance, they used ingredients and frying techniques of their African homeland that eventually became Southern cuisine mainstays. They also created the renowned Soul Food cuisine.
See my Soul Food web page

Native Americans
They, too, had a culinary impact. For example, they introduced early settlers to corn and molasses, and their many uses.

Farm v. plantation influence
Southern cuisine evolved mainly in the kitchens of nondescript small-to-medium-sized farms, which outnumbered the large Hollywood-hyped plantations a hundred to one.
Learn More

for first Southern Cuisine page
Learn my American tips
and insights on these pages
Click blue links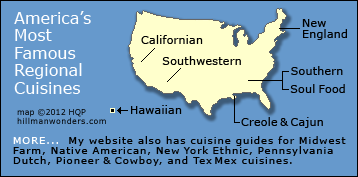 America's 7 most famous
regional cuisines
California
Creole & Cajun
Hawaiian
New England
Soul Food
Southern
Southwestern
Other renowned
American cuisines
Cowboy
New York Ethnic
Midwest farm
Native American
Penn Dutch / Amish
Pioneer
Tex Mex
Related pages
Top 10 Famous American foods
American cuisine - The bad and good
American city specialties
USA production science
Top 10 travel wonders of America
Photo by Douglas P Perkins - CC BY 3.0

Rankings
Peasant recipes
World wonders
Also read
Site map
About me and my credentials
About my website
Reader testimonials
Email me your opinion