German Beer
Food tips you can trust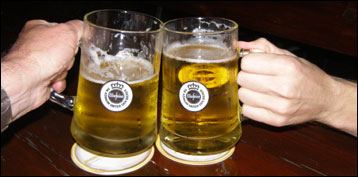 German beer
tips and insights

The 2 most popular
German beer categories
Germany has many beers and beer categories. One popular way to classify the so-called normal brewed beers is into these two categories:

Dunkles
In most instances, dunkles beers are on the sweet, full side and have a low hop content. They are dark hued and are translucent to opaque.

Helles
The helles beers have a higher hop content and, therefore, are slightly more bitter in flavor. They are light hued and semi transparent.
However, German beers cover the full spectrum between these two extremes.

Other beer types
The non-normal brewed beers include the dark, sweet, low-alcohol Malzbier (malt beers) and the wheat beers such as Berliner Weisse (traditionally spiked with raspberry syrup).

Other classifications
German beers may also be classified by their origin, their alcoholic strength, whether they are top or bottom fermented, and their method and duration of storage (lager means "stored").

Serving temperature
Remember that the proper serving temperature is warmer than American, colder than English.
Learn more
about German food
Click blue links
to open my other
German pages
Famous German dishes
Main dishes - A to K
Main dishes - L to Z
Sausages
Side dishes & soup
Cheese, hors d'oeuvres & sauce
Sweets & street food
Famous German beverages
Beer
Wine
Beverages - Other
My other German food pages
Menu translator
Regional cuisines
Cooking ingredients
More tips & insights
Travel wonders
Top 10 wonders of Germany

Rankings
Peasant recipes
World wonders
Also read
Site map
About me and my credentials
About my website
Reader testimonials
Email me your opinion