Famous
German dishes
cheese

and more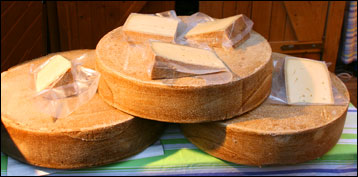 Famous
German cheeses

Limburger
Quite pungent or odiferous. Originally made in Belgium, but currently produced in quantity in Germany.

Munster
Created in the Vosges Mountains in France, but now very much a German staple. Relatively mild for a German cheese.

Tilsiter
Semi-firm, pale yellow cheese. Modest creamy texture.
Hors d'oeuvres

Rollmopse
A pickled herring filet is rolled around a pickle or onion.
Sauce

Grune Sosse
A green sauce made with a mixed variety of herbs.
Learn more
about German food
Click blue links
to open my other
German pages
Famous German dishes
Main dishes - A to K
Main dishes - L to Z
Sausages
Side dishes & soup
Cheese, hors d'oeuvres & sauce
Sweets & street food
Famous German beverages
Beer
Wine
Beverages - Other
My other German food pages
Menu translator
Regional cuisines
Cooking ingredients
More tips & insights
Travel wonders
Top 10 wonders of Germany
Photo by Frank Vincentz - CC BY-SA 3.0

Rankings
Peasant recipes
World wonders
Also read
Site map
About me and my credentials
About my website
Reader testimonials
Email me your opinion