The 3 German
regional cuisine zones
Southern

Central

Northern
Southern German
regional cuisine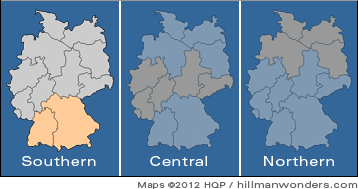 Bavaria
The regional cooking of Bavaria (southeastern West Germany) is the cuisine most foreigners recognize as typically German. Bavarians are known for their love of beer and sausage. Weisswurst, Gansebraten (roast goose), Schweinesbraten (roast pork), and Kalbshaxe (veal shank) are favorites. Of all the Bavarian meat dishes, however, the Schnitzel category is the favorite, with Wiener Schnitzel being topmost.

Baden Wurttemberg
The other "southern" German cuisine is Baden Wurttemberg. Some say Germany's finest cooking comes from this state, with Baden Baden the star city. The cuisine has been influenced by neighboring French kitchens. The area has a rich reserve of game from the Black Forest. This region also supplies delicious plums and cherries that are transformed into the cherry brandy Kirschwasser and into the Schwarzwalder Kirschtorte (Black Forest cherry cake).
Central German
regional cuisine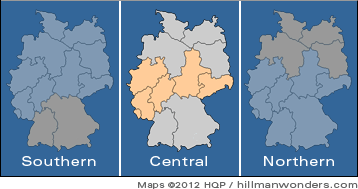 Rhineland
On the Central Germany's western boundary is the first rate wine growing region, Rhineland. It is known for potato based dishes. But most famous of all is Rhineland's Sauerbraten, which has become one of Germany's national dishes.

Westphalian
This region lies just north of the Rhine region and is famous for its ham.

Hesse
Frankfurt is its principal city. Popular dishes include Kasseler Rippchen, which the Berliners also claim as their own. The area's most famous sauce is the green Grune Sosse, made with a variety of herbs.

Saxony
Farther east in central Germany is Saxony. This region is the home of the sweet yeast cakes including Dresdner Stollen, a nationwide Christmas favorite. Another famous dish from this area is Leipziger Allerlei, a mixture of individually cooked young vegetables bathed in a rich sauce.
Northern Germany
regional cuisine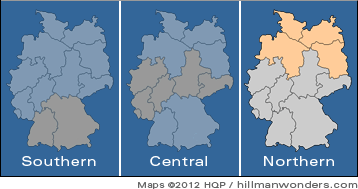 Lower Saxony
It's located in the northwest corner of Germany. As with most areas of northern Germany, seafood is a dietary mainstay because of the proximity to the North and Baltic seas. Particularly well liked are Rollmopse, rolled, pickled herring filets. Eel is another well loved gift of the water and is often served smoked or as the principal ingredient of an eel soup-stew called Aalsuppe.

Schleswig Holstein
This is West Germany's most northerly region. Its recipes bear some resemblance to those of neighboring Scandinavia. And like Denmark, it is a dairy loving land. Lubeck, one of its cities, is famous for its Marzipan.

Berlin
The area in and around Berlin, which includes parts of old Prussia, is especially noted for its ground meat dishes. The most prestigious one is Konigsberger Klopse, lemon & caper flavored meatballs.
Learn more
about German food
Click blue links
to open my other
German pages
Famous German dishes
Main dishes - A to K
Main dishes - L to Z
Sausages
Side dishes & soup
Cheese, hors d'oeuvres & sauce
Sweets & street food
Famous German beverages
Beer
Wine
Beverages - Other
My other German food pages
Menu translator
Regional cuisines
Cooking ingredients
More tips & insights
Travel wonders
Top 10 wonders of Germany

Rankings
Peasant recipes
World wonders
Also read
Site map
About me and my credentials
About my website
Reader testimonials
Email me your opinion