Other
German beverages
Food tips you can trust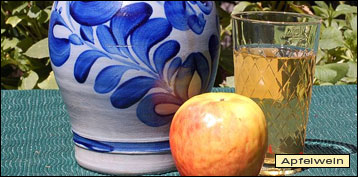 Other German
alcoholic beverages

Apfelwein
Apfelwein ("apple wine") is a cider, one of Germany's most popular beverages. Germans enjoy this drink in both the hard and soft versions. Apples are plentiful a nd grow well in the central part of the country.

Potent beverages
Germany is also the home of a variety of strong drinks, many of which, like Korn (clear spirit), fall into the clear grain spirit Schnapps category. There are many critically praised fruit brandies including Kirschwasser (cherry), Mirabellengeist (yellow plum), and Himbeergeist (raspberry).
Hot German beverages

Coffee
Coffee is a major liquid refreshment in Germany. Collectively, the Germans are among the most knowledgeable and demanding coffee drinkers in the world.

Tea
Except in certain pockets of the country, tea is not particularly popular.
Learn more
about German food
Click blue links
to open my other
German pages
Famous German dishes
Main dishes - A to K
Main dishes - L to Z
Sausages
Side dishes & soup
Cheese, hors d'oeuvres & sauce
Sweets & street food
Famous German beverages
Beer
Wine
Beverages - Other
My other German food pages
Menu translator
Regional cuisines
Cooking ingredients
More tips & insights
Travel wonders
Top 10 wonders of Germany

Rankings
Peasant recipes
World wonders
Also read
Site map
About me and my credentials
About my website
Reader testimonials
Email me your opinion