Famous
German dishes
main dishes - L to Z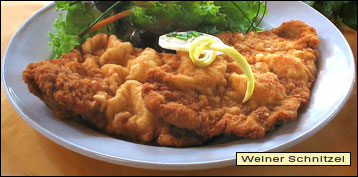 Famous German
main dishes
L to Z

Labskaus
This sailor's favorite is a hash of meat, fish, onions, potatoes and beets topped with a fried egg.

Maultaschen
A ravioli-looking specialty. The dough stuffed with cooked minced meat and spinach.

Sauerbraten
Long-marinated, sweet-and-sour beef pot roast. Potato dumplings, red cabbage, and stewed fruit are traditional accompaniments.

Schweinsbraten
Schweinsbraten "Roast pork". The meat (typically shoulder) is slowly cooked and served with sauce, dumplings and sauerkraut.

Schweinshaxe
The bone-in shank is moist inside, crisp outside thanks to slow roasting.

Spanferkel
Spit-roasted whole suckling pig. Spanferkel also refers to a feast featuring the pig.

Weiner Schnitzel
"Vienna Cutlet". Borrowed from Austria, but now an entrenched German dish. The thin veal cutlet is breaded and pan fried in butter.
Learn More

for Famous German dishes A to K
Learn more
about German food
Click blue links
to open my other
German pages
Famous German dishes
Main dishes - A to K
Main dishes - L to Z
Sausages
Side dishes & soup
Cheese, hors d'oeuvres & sauce
Sweets & street food
Famous German beverages
Beer
Wine
Beverages - Other
My other German food pages
Menu translator
Regional cuisines
Cooking ingredients
More tips & insights
Travel wonders
Top 10 wonders of Germany
Photo by Kobako - CC BY-SA 2.5

Rankings
Peasant recipes
World wonders
Also read
Site map
About me and my credentials
About my website
Reader testimonials
Email me your opinion