Famous
German dishes
side dishes

soup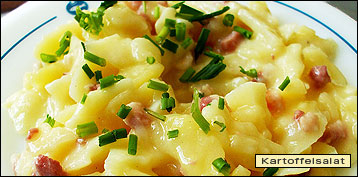 Famous
side dishes

Bratkartolfen
Fried potatoes are enhanced with bacon and onions.

Kartoffelsalat
"Potato salad". The German version uses vinegar and oil, not mayonnaise.

Reibekuchen
Pan-fried potato pancakes served with apple sauce.

Sauerkraut
"Sour Cabbage". Vegetable is shredded then pickled.

Spaetzle
Small, hand-made noodles dropped in boiling water.
Famous soup

Aalsuppe
This sweet-sour mixed vegetable-fruit soup doesn't necessarily have to include eel (aal) despite its name. "Aal" means "everything" in an early German dialect.
Learn more
about German food
Click blue links
to open my other
German pages
Famous German dishes
Main dishes - A to K
Main dishes - L to Z
Sausages
Side dishes & soup
Cheese, hors d'oeuvres & sauce
Sweets & street food
Famous German beverages
Beer
Wine
Beverages - Other
My other German food pages
Menu translator
Regional cuisines
Cooking ingredients
More tips & insights
Travel wonders
Top 10 wonders of Germany
Photo by Oxfordian Kissuth - CC BY-SA 3.0

Rankings
Peasant recipes
World wonders
Also read
Site map
About me and my credentials
About my website
Reader testimonials
Email me your opinion