Famous
German dishes
sweets

street food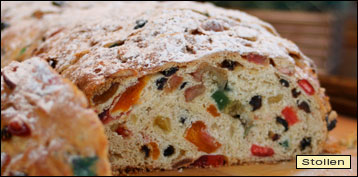 Sweets

Baumkuchen
This treat is known as the "King of Cakes" in Germany.

Marzipan
An almond-sugar-egg-white paste is molded into the shapes of fruits, flowers and animals.

Rote Grutze
A raspberry puree partnered with cream, whipped cream or ice cream.

Schwarzwalter Kirschtorte
Chocolate layer cake augmented with sour cherries and whipped cream.

Stollen
Christmas cake. Studded with candied fruit. Originated in Dresden, but it is now admired throughout Germany.
Street-vendor
fast foods with
foreign influences

Currywurst
Sausage chunks doused with a curry sauce.

Donar Kebab
Turkish inspiration invented in Berlin, now sold around the world. Mass of ground lamb is grilled on a vertical spit, then sliced and served on pita bread.
Learn more
about German food
Click blue links
to open my other
German pages
Famous German dishes
Main dishes - A to K
Main dishes - L to Z
Sausages
Side dishes & soup
Cheese, hors d'oeuvres & sauce
Sweets & street food
Famous German beverages
Beer
Wine
Beverages - Other
My other German food pages
Menu translator
Regional cuisines
Cooking ingredients
More tips & insights
Travel wonders
Top 10 wonders of Germany

Rankings
Peasant recipes
World wonders
Also read
Site map
About me and my credentials
About my website
Reader testimonials
Email me your opinion