Famous
German dishes
Sausages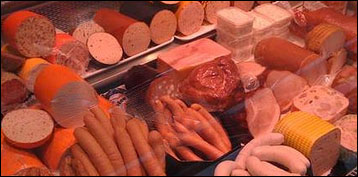 Famous
German sausages

Bauernwurst
"Farmer's sausage". Made with pork. Smoked.

Blutwurst
"Blood sausage". Minced pork is mixed with blood and a filler such as breadcrumbs.

Bockwurst
Made with veal, pork and milk. Subtly seasoned.

Bratwurst
"Roast sausage". Made with pork, sometimes mixed with veal.

Knackwurst
Prepared with pork, veal and lots of garlic, then smoked.

Leberwurst
"Liver sausage". Usually made from pig's liver. Easy to spread over crackers and toast.

Mettwurst
Another spreading sausage. Made with pork and pig liver. Smoked.

Weisswurst
"White sausage". Made with veal and pork. Mildly seasoned.
Learn more
about German food
Click blue links
to open my other
German pages
Famous German dishes
Main dishes - A to K
Main dishes - L to Z
Sausages
Side dishes & soup
Cheese, hors d'oeuvres & sauce
Sweets & street food
Famous German beverages
Beer
Wine
Beverages - Other
My other German food pages
Menu translator
Regional cuisines
Cooking ingredients
More tips & insights
Travel wonders
Top 10 wonders of Germany
Photo by Gordito1869 - CC BY 3.0

Rankings
Peasant recipes
World wonders
Also read
Site map
About me and my credentials
About my website
Reader testimonials
Email me your opinion