Andalucia cuisine
Food tips you can trust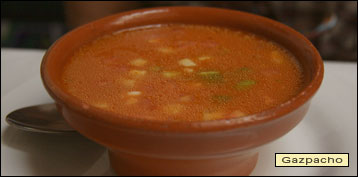 Gazpacho
Andalucia's
most famous dish

Andalucian versions
The cold soup Gazpacho comes in many varieties in Andalucia and other parts of Spain. The Andalucia versions are particularly noteworthy. Most are made by adding ingredients like bread, green peppers, tomatoes, cucumbers, onions, raw eggs, and croutons to the basic garlic broth.

Ajo Blanco con Uvas
An interesting variety of Gazpacho is Malaga's Ajo Blanco con Uvas, a garlic broth in which peeled white grapes float.

Gazpacho Blanco
The simplest gazpacho is Cordoba's Gazpacho Blanco (made with just olive oil, vinegar, garlic, and almonds diluted with cold water).
Other
Andalucia cuisine
specialties

Huevos a la Flamenca
A specialty of the city of Seville. It's a baked dish of eggs broken over a bed of stewed vegetables such as tomatoes, peppers, green peas, and asparagus tips.

Banderillas
Skewered grilled small pieces of meat or other ingredients.
More
Andalucia cuisine
tips and insights

Culinary influences
Andalusia cooking is influenced by two very different cooking styles: Spanish and Moorish (it was ruled by the Moors for centuries). The blend has produced an admirable cuisine.

Best gourmet city
Seville is the top all-around food city in Andalucia. Alhambra, Cadiz, Cordoba, Granada, and Malaga are runners-up.

Also learn these Spanish
food tips and insights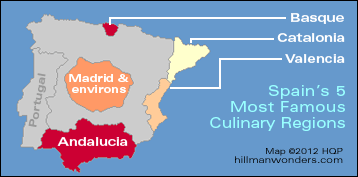 Click blue links to see their pages
Andalucia
Basque
Catalonia
Madrid & environs
Valencia
Top runners-up
Spanish cuisine - Intro

Photo by Tamorlan - CC BY-SA 3.0

Rankings
Peasant recipes
World wonders
Also read
Site map
About me and my credentials
About my website
Reader testimonials
Email me your opinion