Top Spanish cuisine
runners-up
Food tips you can trust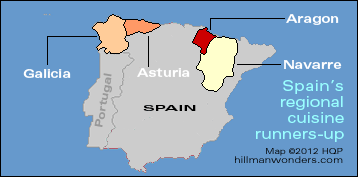 Spanish cuisine
runners-up

Aragon
Shares Catalonia's western border. Celebrated for its chilindron cooking sauces. They are typically made with ham, peppers, garlic, olives and almonds. Used for meats (especially chicken).

Asturia
Located just east of Galicia. Fabada Asturiana is its highly touted peasant style melange of white beans and smoked pork products.

Galicia
Sits in the northwest corner of Spain. Known for its Caldo Gallego, a rich soup of meat and vegetables flavored with ham. Fish and shellfish are abundant and popular.

Navarre
Situated directly east of the Basque Provinces. Its renowned specialty is Truchas a la Navarre (ham stuffed trout that's grilled or panfried).
Also learn these Spanish
food tips and insights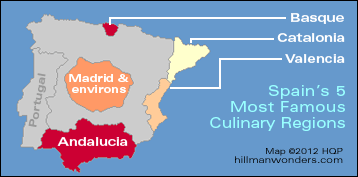 Click blue links to see their pages
Andalucia
Basque
Catalonia
Madrid & environs
Valencia
Top runners-up
Spanish cuisine - Intro


Rankings
Peasant recipes
World wonders
Also read
Site map
About me and my credentials
About my website
Reader testimonials
Email me your opinion