Valencia cuisine
Food tips you can trust
The most famous
Valencia dish

Paella
It is Valencia's best known dish - and has endless variations, changing from town to town. To compound the confusion, a dish of saffron rice, chicken, sausage, seafood, peas, and peppers, cooked in a large round pan with a flat bottom and two handles, is called Paella a la Valenciana outside Spain.
The Paella
Valencianos love most

Arroz con Pollo
This is a more austere but splendid version of the Paella - and is known locally simply as arroz con pollo ("rice with chicken").

The essence of the dish
Saffron flavored and colored rice is mixed, often with chicken but without sausages and pimientos.

My paella recipe
More
Valencia cuisine
tips and insights

Middle Eastern heritage
Valencia's historic Middle Eastern culinary heritage is evident in its use of rice and citrus fruits (both culinary concepts were imported by the Phoenicians and Arabs who used V alencia as a trading outpost).

Rice
This province is a land of rice eaters (most of the rest of Spain prefer long crusty bread loaves).

Best gourmet city
The city of Valencia is the top all-around food city in the Valencia region. Alicante in southern Valencia region is the runner-up.

Also learn these Spanish
food tips and insights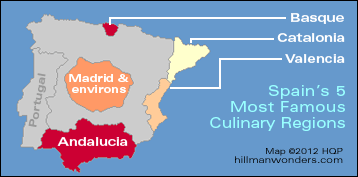 Click blue links to see their pages
Andalucia
Basque
Catalonia
Madrid & environs
Valencia
Top runners-up
Spanish cuisine - Intro

Photo by Alex Brown - CC BY 2.0

Rankings
Peasant recipes
World wonders
Also read
Site map
About me and my credentials
About my website
Reader testimonials
Email me your opinion