Catalonia cuisine
Food tips you can trust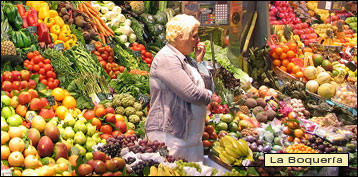 Famous
Catalonia cuisine
specialties

Zarzuela de Mariscos
This is the most famous dish of Catalonia. A zarzuela is literally an operetta, figuratively a big deal or a mess. A Zarzuela de Mariscos is a "mess of shellfish" in a white wine-sauce. Ingredients often include shrimp, squid, tallinas (small clams), cigalas (small lobsterlike crustaceans with big claws), and langostas (big spiny lobsters without claws).

Parrillada de pescado
A medley of grilled fish and shellfish.
Insights on the
cuisine of Catalonia

Culinary reputation
Many Spanish food connoisseurs consider Catalan cuisine (along with the Basque cuisine) to have the finest regional cooking of Spain.

Differences
Not only is the cooking style distinct from the rest of Spain, the citizens speak a different language (Catalan).

Seasonal
The fare is more seasonal than elsewhere in Spain.

Wild game
It is often on the menu, especially in the fall.

The French connection
Some cooking aspects are more French than Spanish (Catalonia lies directly south of France).

Best city for gourmets
Barcelona is the top all-around food city in Catalonia. Tarragona is the runner-up.

Barcelona not only has great cooks and restaurants, it has the famous La Boqueria food market. It is one of Europe's best and largest.
Also learn these Spanish
food tips and insights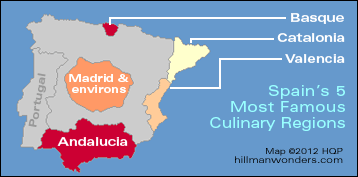 Click blue links to see their pages
Andalucia
Basque
Catalonia
Madrid & environs
Valencia
Top runners-up
Spanish cuisine - Intro

Photo by Individuo - CC BY 2.0

Rankings
Peasant recipes
World wonders
Also read
Site map
About me and my credentials
About my website
Reader testimonials
Email me your opinion