Alaska Railroad's
Goldstar dome train
Alaska pre & post cruise tour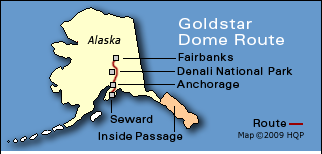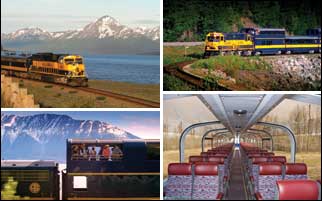 Why the
Goldstar Dome
train ride is special
Although you use this Alaska Railroad train ride to get from point A to B, it's a remarkable pre/post cruise excursion in itself. You pass through pristine Alaskan wilderness. Through large picture windows (see photo) you see vast glaciers, rugged snow-capped mountains, beautiful lakes, and wildlife, possibly even bears.
Goldstar Dome
tips & insights

Goldstar vs. Adventure service
The Alaska Railroad train has two service categories: Goldstar (first class) and Adventure (standard class). Tickets for the first cost about twice as much as for the second. But it's worth it. You get:

Confirmed, full-time dome seats
Although standard class passengers have their own glass domed compartment (named Visa), they can use it for only 20 minutes at a time, as it must be shared with other passengers.

Better seats, newer furnishings
The Goldstar car is more comfortable and newer.

Better windows
They are larger and higher windows for better viewing. See photo.

Open-air Goldstar viewing deck
This is quite an experience.

Preferred dining car seating
Eat when you want to eat.

Trip duration
The Alaska Railroad's 200 kilometer (130 mile) Anchorage-Seward trip takes 4 hours. The Anchorage-Denali journey lasts 7 hours.

Bus alternative
Buses are less expensive and somewhat faster, but remember, you won't see as much of the enticing landscapes and wildlife habitats (which you came to Alaska to see). Also, passenger space is appreciably roomier, less confining on a train.

Railroad's website
Click this link to go directly to the Alaska Railroad's website to book or for more information: Alaska Railroad

Itinerary insights
Packing tips
Famous Alaskan foods
Alaska facts and tidbits
Other Alaska cruise topics

Best 4 Alaska cruise ports to visit
Best shore excursions - overview
Helicopter tours - Ranks #1
Floatplane tours - Ranks #2
Best 3 Juneau shore excursions
Best 3 Ketchikan shore excursions
Best 3 Sitka shore excursions
Best 3 Skagway shore excursions
Best glaciers

Denali National Park
Goldstar Dome railroad ride
More pre- and post-cruise options


World Wonders - Top 100 rankings
World Wonders - Top 1000 list
My credentials
About my website and criteria
Reader testimonials
Site map