Best pre and post
Alaska cruise tours
Alaska cruise
tips you can trust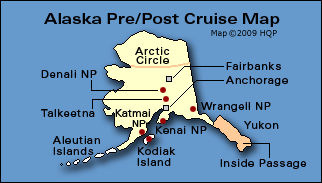 Best two
pre- and post-cruise
destinations
Click these links for my descriptions:
Denali National Park
Goldstar Dome train
Pre- and post-cruise
destinations runners-up

Aleutian Islands
There are over 300 Aleutian islands curving westward for about 1,900 kilometers (1200 miles) towards Russia. Unalaska is the most visited.

Arctic Circle
See wildlife and the isolated northern Alaska landscape. If the local weather cooperates, you won't see the sun dip below the horizon during the course of a 24-hour day during the last half of June

Katmai National Park & Preserve
Katmai is known for its volcanoes and prehistoric sites..

Kenai National Park
Its peaks and fjords are photogenic - and the wildlife spotting opportunities score good marks. So does river and lake sports fishing. Seward is the gateway city..

Kodiak Island
This remote destination is famous for its sizeable bear population - and for wildlife in general.

Seattle or Vancouver
Seattle and Vancouver offer far more than being starting and ending ports for Alaska cruises. They have exciting cityscapes and personalities that are fun to explore.

Talkeetna
This former frontier, now tourism-focused town, is almost halfway between Anchorage and Denali National Park. Weather permitting, you can see Mt. Denali.

Wrangell
This is America's largest national park. And it has the continent's second highest peak (after Denali) as well as numerous grand glaciers.

Yukon
You cross the Canadian border to visit this historic gold-rush territory.

Itinerary insights
Packing tips
Famous Alaskan foods
Alaska facts and tidbits
Other Alaska cruise topics

Best 4 Alaska cruise ports to visit
Best shore excursions - overview
Helicopter tours - Ranks #1
Floatplane tours - Ranks #2
Best 3 Juneau shore excursions
Best 3 Ketchikan shore excursions
Best 3 Sitka shore excursions
Best 3 Skagway shore excursions
Best glaciers

Denali National Park
Goldstar Dome railroad ride
More pre- and post-cruise options


World Wonders - Top 100 rankings
World Wonders - Top 1000 list
My credentials
About my website and criteria
Reader testimonials
Site map