Best
Shore Excursions
for your Alaska Cruise
Alaska cruise
tips you can trust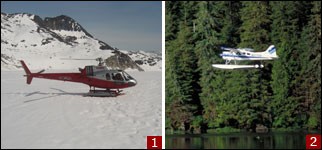 Top 2
Alaska shore excursions

Helicopter sightseeing
There are three types: 1) With a glacier landing and walk, 2) with two glacier landings and walks, and 3) with dog sledding on a glacier. Click helicopter sightseeing for my page with insights and photos.

Floatplane sightseeing
See remote, dramatic aerial landscapes. Some tours land on remote lakes or fjords. Read my floatplane sightseeing page for photos and descriptions.
Other popular
shore excursions include
- Whale and orca watching
- Bear watching
- Salmon and halibut fishing
- Sea kayaking
- Learning local foods and cooking
- Hiking in the wilderness
- Touring the port towns
- Visiting local museums
- Taking an historic railroad ride
- Seeing raptor rehab sites
Learn the top 3 shore excursions
in each of these top port towns

Juneau


Ketchikan


Sitka


Skagway
Booking advice

Book early
Some shore excursions sell out long before your ship docks.

Book with whom?
Many tours cost less if you book them independently with tour operators or their booking agents rather than directly with your cruise line. However, be aware that there are major tradeoffs.
Booking directly with a cruise line helps reduce booking time and potential glitches. It assures you that the tour operator was vetted for quality and reliability - and that it will likely offer schedules that better dovetail with the ship's time in port. And, cruise lines completely reserve some tours months in advance, leaving independent tour buyers out of luck.
If you purchase a tour from your cruise line and it returns after your cruise ship's scheduled departure, cruise ships will wait for you (or will get you to the vessel's next port of call without charge). If an independently bookrd tour returns late, you might end up on the dock waving the ship goodbye.

Itinerary insights
Packing tips
Famous Alaskan foods
Alaska facts and tidbits
Other Alaska cruise topics

Best 4 Alaska cruise ports to visit
Best shore excursions - overview
Helicopter tours - Ranks #1
Floatplane tours - Ranks #2
Best 3 Juneau shore excursions
Best 3 Ketchikan shore excursions
Best 3 Sitka shore excursions
Best 3 Skagway shore excursions
Best glaciers

Denali National Park
Goldstar Dome railroad ride
More pre- and post-cruise options


World Wonders - Top 100 rankings
World Wonders - Top 1000 list
My credentials
About my website and criteria
Reader testimonials
Site map