Alaska cruise
floatplane tours
Alaska cruise
tips you can trust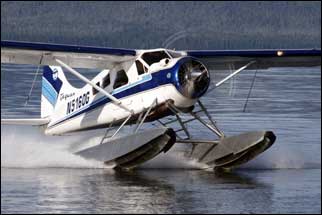 Why a
floatplane excursion
is special
This is Alaska's best shore excursion after those on helicopters. A floatplane tour costs on average one-third less than a helicopter version. But like helicopters, they give you forever memories. You marvel at the secluded landscapes that can be seen only from the air.
Everyone has a window seat. You have many photo ops. Your pilot narrates, directing your attention to significant sights.
Locations
Skagway, Juneau, and Ketchikan have floatplane tours. Sitka does not.

Misty Fjord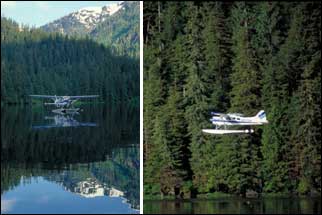 This is the most celebrated floatplane tour. It flies out of Ketchikan and takes you to a land of sheer mountain cliffs, towering waterfalls, and serene beautiful lakes.
Your floatplane sets down on a secluded lake or fjord. The pilot turns off the engine and lets passengers get out of the cabin to stand on the pontoons to commune with nature in an ultra peaceful environment. Only you, the pilot and several fellow passengers are around.
The best and most reliable floatplane operator is Taquan Air (click this link to visit its website). Its floatplanes are shown in the three photographs above.

Custom
floatplane excursions
Taquan Air and some other floatplane operators will fly you to secluded locations for fishing, hiking, and climbing. At a designated time (hours or days later), they return to fly you back to your cruise port city.
Read my helicopter
sightseeing page
Click helicopter sightseeing for descriptions and photos.

Itinerary insights
Packing tips
Famous Alaskan foods
Alaska facts and tidbits
Other Alaska cruise topics

Best 4 Alaska cruise ports to visit
Best shore excursions - overview
Helicopter tours - Ranks #1
Floatplane tours - Ranks #2
Best 3 Juneau shore excursions
Best 3 Ketchikan shore excursions
Best 3 Sitka shore excursions
Best 3 Skagway shore excursions
Best glaciers

Denali National Park
Goldstar Dome railroad ride
More pre- and post-cruise options


World Wonders - Top 100 rankings
World Wonders - Top 1000 list
My credentials
About my website and criteria
Reader testimonials
Site map