Best 3 Juneau
shore excursions
Alaska cruise
tips you can trust
Juneau's best
shore excursions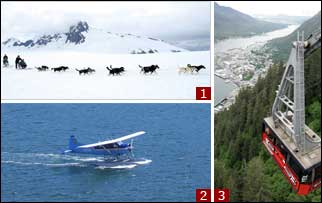 Helicopter sightseeing
The established helicopter TEMSCO, has three tours: 1) Its basic tour gives you 30 minutes flightseeing time plus a glacial landing with a guided walk. 2) Its Pilot's Choice tour has 50 minutes of flightseeing plus two distinct glacial walks. 3) Its ultimate tour combines 30 minutes of flightseeing with dog sledding on a remote glacier.

Floatplane sightseeing
If the helicopter tours are fully booked or beyond your budget, then do book a floatplane excursion. You fly over glaciers. One tour also lands you at a remote lodge for a salmon lunch. Click this link for my floatplane page:

Mt. Roberts Tramway
Take a 6-minute journey 550 meters (1800 feet) up a steep mountain for a bird's eye view of Juneau, cruise ships, and the wilderness. Mt. Roberts has a restaurant, viewing area, and native-culture film. There are also hiking trails (be aware of occasional bear encounters, a reason guided hikes are popular).
Juneau runners-up
In Juneau ...

Red Dog Saloon
Pass through the swinging doors for honky-tonk piano music, saloon girls, sawdust floors, and gold-rush-day decor. The decor and brew are better than the grub.

Alaska State Museum
Local art, artifacts, and more.

Salmon Hatchery
Observe the process, from egg to release.

City tour
Organized or self-guided.
Outside Juneau ...

Sawyer Glacier
If your cruise ship does not make a visit to Sawyer Glacier in Tracy Arm Fjord as part of its itinerary, I recommend taking a boat or (especially) air tour out of Juneau to experience this natural marvel.

Mendenhall Glacier
It's grand and just 20 minutes outside of Juneau by shuttle bus, tour bus, or rental car. But be aware that the observation areas are distant from the glacier. It's better to see it from a helicopter or floatplane.

Glacier hike-and-climb
An icy adventure for visitors with good climbing skills.

Whale watching
Choice of tours, on big and small boats.

Rainforest hikes
Connect with nature on a ranger-guided or self-do hike in nature's paradise.

Wildlife kayaking
Doing it in Tongass National Park is especially rewarding.

Sport fishing
Salmon is the star from late July to early September.

Zipline
it in a harness suspended from a zipline as you whoosh through tree tops.

Gold mine tour
You can even pan for gold, as old-timers did.

River rafting
Get an adrenalin rush.

Itinerary insights
Packing tips
Famous Alaskan foods
Alaska facts and tidbits
Other Alaska cruise topics

Best 4 Alaska cruise ports to visit
Best shore excursions - overview
Helicopter tours - Ranks #1
Floatplane tours - Ranks #2
Best 3 Juneau shore excursions
Best 3 Ketchikan shore excursions
Best 3 Sitka shore excursions
Best 3 Skagway shore excursions
Best glaciers

Denali National Park
Goldstar Dome railroad ride
More pre- and post-cruise options


World Wonders - Top 100 rankings
World Wonders - Top 1000 list
My credentials
About my website and criteria
Reader testimonials
Site map