Best 3 Sitka
shore excursions
Alaska cruise
tips you can trust
Sitka's best
shore excursions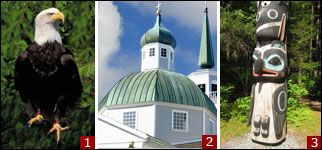 Alaska Raptor Center
Injured eagles and other birds of prey are restored to health here, then released back into the wild. The rehab center, which is about 10 minutes outside of town, gives you the opportunity of seeing the majestic eagles up close, eyeball to eyeball.

St. Michael's
Russian Orthodox Church
View precious religious artworks inside Sitka's landmark building. They were heroically rescued by townsfolk when the old church burnt down.

Sitka National Historic Park
It sports totem poles plus other artifacts from the Tlingit culture, as well as an educational film. The park has a short, flat-surfaced forest trail.
Sitka shore excursion
runners-up

Russian Bishop's House
This restored historic dwelling has a guided tour.

Russian and native Indian
dance presentations
There are usually performances when a large cruise ship is in port.

Whale watching
Sitka is a first-class whale watching destination. You can view whales (in season) aboard one of the local tour boats - or at Whale Park a short drive from town.

Itinerary insights
Packing tips
Famous Alaskan foods
Alaska facts and tidbits
Other Alaska cruise topics

Best 4 Alaska cruise ports to visit
Best shore excursions - overview
Helicopter tours - Ranks #1
Floatplane tours - Ranks #2
Best 3 Juneau shore excursions
Best 3 Ketchikan shore excursions
Best 3 Sitka shore excursions
Best 3 Skagway shore excursions
Best glaciers

Denali National Park
Goldstar Dome railroad ride
More pre- and post-cruise options


World Wonders - Top 100 rankings
World Wonders - Top 1000 list
My credentials
About my website and criteria
Reader testimonials
Site map