Best Alaska cruise
glacliers

Alaska cruise
tips you can trust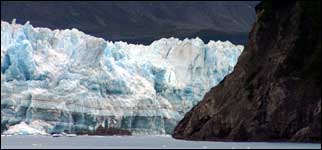 What are the
must-see glaciers
of Alaska cruising?

My glacier ratings
Alaska has more than 100,000 glaciers, about half of the world's total. The best on Alaska cruise itineraries are:
Top 2 individual glaciers

Hubbard (see photo)


Sawyer

Runners-up: Mendenhall, Endicott, Margerie, Worthington, Kenai Fjords
Top glacier complex

Glacier Bay (16 glaciers)

Runner-up: College Fjord

Can you visit both
Hubbard Glacier
and Glacier Bay?
Not on the same cruise. The Alaska authorities, for the sake of conservation and limiting overcrowding, permit one set of cruise lines to visit Glacier Bay but not Hubbard Glacier. The opposite is true for the other set of cruise lines.

Which is better,
Hubbard Glacier
or Glacier Bay?
Many seasoned Alaska cruise-goers believe that Hubbard Glacier is the more exciting glacier destination. Many others think that Glacier Bay is the winner. Each side has its strong arguments.
Arguments for Hubbard

Size
It dwarfs Margerie, the largest of the 16 glaciers in Glacier Bay.

Breadth
Hubbard's face is 10 kilometers (6 miles) wide. That's 5 times broader than Margerie's. And Hubbard's vertical face is taller than a 30-story building.

Calving
Hubbard's calvings (ice chunks breaking off) occur more frequently. They are also more dramatic (some calves are as high as a 10-story building).
Arguments for Glacier Bay

Number
It has 16 individual glaciers.

Entrance
Its entrance bay is more scenic and varied than Hubbard's.

Upclose odds
The chances of a ship being able to get close to a glacier are much better in Glacier Bay than at Hubbard Glacier. Reason: The number of icebergs that Hubbard generates sometimes creates a navigational hazard for cruise ships. If so, this would prevent your ship from getting within thrill range of the Hubbard glacier.
The vote is close. In my mind, Hubbard has the slight edge because of its awesomeness.

Itinerary insights
Packing tips
Famous Alaskan foods
Alaska facts and tidbits
Other Alaska cruise topics

Best 4 Alaska cruise ports to visit
Best shore excursions - overview
Helicopter tours - Ranks #1
Floatplane tours - Ranks #2
Best 3 Juneau shore excursions
Best 3 Ketchikan shore excursions
Best 3 Sitka shore excursions
Best 3 Skagway shore excursions
Best glaciers

Denali National Park
Goldstar Dome railroad ride
More pre- and post-cruise options


World Wonders - Top 100 rankings
World Wonders - Top 1000 list
My credentials
About my website and criteria
Reader testimonials
Site map