Alaska cruise
packing tips
Alaska cruise
tips you can trust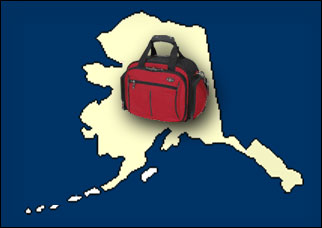 A few pointers
to get you started

My most
important advice:
Dress in layers that can
easily be added or subtracted
Alaska cruise weather is famously unpredictable. Weather conditions throughout the day can change without warning. It could suddenly and drastically cool down - or quickly change from being sunny to rainy. That's the Inside Passage, so be prepared for it.
What I do for layering is pack a cotton turtleneck, a light wool turtleneck, a light wool non-turtleneck, and a wool pull-over. They can be worn simultaneously if needed under a loose-fitting windbreaker or parka. As the temperature rises, I shed them, one by one.

Cruise-season
temperatures
The average daily high is in the comfortable 15 to 23°C (60 to 74°F) range. Temperatures noticeably drop at night. In July and August, a light sweater in reserve helps. In early May or late September, nights could drop to near freezing.

Wear water-resistant
or -proof outerware
This could be a parka or poncho, preferably hooded. Also consider bringing rain overpants that golfers and skiers use.

Wear comfortable
walking or hiking shoes
They need to have good traction for wet deck and ashore activities. Sneakers will do, but not for cold glacier tours (where you'll also need warm socks).

Don't forget
your hat and gloves
Ideally, the hat or cap should be lined and water-resistant - and have ear flaps. It helps if your gloves are also lined.

Insect protection
Alaska has plenty of insects. Keep your arms covered and use an effective insect repellant.

Formal nights
If you do not have a tuxedo and gown for formal nights, relax. You will not stand out nowadays if you wear a black suit with conservative tie - or a cocktail dress with an understated fashionable accessory.

Non-clothing items
Bring sunscreen, sunglasses, insect repellant, compact umbrella, binoculars, and camera with a spare battery and memory card. I also recommend a daytrip-size backpack for storing your layering clothes and personal items.

Itinerary insights
Packing tips
Famous Alaskan foods
Alaska facts and tidbits
Other Alaska cruise topics

Best 4 Alaska cruise ports to visit
Best shore excursions - overview
Helicopter tours - Ranks #1
Floatplane tours - Ranks #2
Best 3 Juneau shore excursions
Best 3 Ketchikan shore excursions
Best 3 Sitka shore excursions
Best 3 Skagway shore excursions
Best glaciers

Denali National Park
Goldstar Dome railroad ride
More pre- and post-cruise options


World Wonders - Top 100 rankings
World Wonders - Top 1000 list
My credentials
About my website and criteria
Reader testimonials
Site map