Alaska cruise
itinerary insights
Alaska cruise
tips you can trust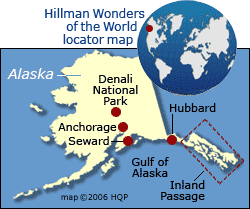 Itinerary options
There are two main ones:

Inside Passage (see map)
This is the most popular route. Typically, it's a roundtripper out of Vancouver or Seattle - and lasts 7 nights. One advantage you get a lower airfare. Reason: Because you leave and return to the same port, you can buy a money-saving roundtrip airline ticket.

Gulf of Alaska
Normally, you sail northbound one way from Vancouver to Seward (or, alternatively, southbound in the opposite direction). Duration is usually 10 or 11 nights.
The big advantage is you see more glaciers and other spectacular sights. And, Denali National Park will be geographically desirable, as a pre- or post-cruise tour.
A disadvantage is you will have to pay more for your airline ticket because your cruise begins in one city and ends in another. Roundtrip fares are not possible (though you may save some money by asking your travel agent for an "open jaw" ticket).
More itinerary insights

Third alternative
There is a third itinerary called the Bering Sea cruise. You sail to Alaska's remote islands, including the Aleutians. In most cases, you do this on a small expedition ship.

Sightseeing restrictioins
The Alaska authorities limit visits to some sights to prevent overcrowding and conserve the environment. For example, cruise lines can visit Glacier Bay or Hubbard Glacier, but not both.

Itinerary insights
Packing tips
Famous Alaskan foods
Alaska facts and tidbits
Other Alaska cruise topics

Best 4 Alaska cruise ports to visit
Best shore excursions - overview
Helicopter tours - Ranks #1
Floatplane tours - Ranks #2
Best 3 Juneau shore excursions
Best 3 Ketchikan shore excursions
Best 3 Sitka shore excursions
Best 3 Skagway shore excursions
Best glaciers

Denali National Park
Goldstar Dome railroad ride
More pre- and post-cruise options


World Wonders - Top 100 rankings
World Wonders - Top 1000 list
My credentials
About my website and criteria
Reader testimonials
Site map