Top 10
adventure travel
books

rankings you can trust
Top 10 rankings
Adventure
travel books
that inspire travel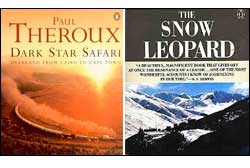 Dark Star Safari
Paul Theroux (2002)

Worst Journey in the World
Apsley Cherry-Garrard (1922)

Wind, Sand and Stars
Antoine de Saint-Exupery (1939)

Snow Leopard
Peter Matthiessen (1978)

Coming into the Country
John McPhee (1976)

Seven Pillars of Wisdom
T.E. Lawrence (1926)

Endurance: Shackleton's Voyage
Alfred Lansing (1959)

Seven Years in Tibet
Heinrich Harrer (1953)

Into the Wild
John Krakauer (1996)

Journey to Lhasa
Alexandra David-Neel (1927)
Coffee table
travel books

Our beautiful world
One or more of these coffee table books would be a splendid gift to a seasoned traveler.

Earth from Above
Striking aerial photos of earth features around the world.

Planet Earth
Photographs of our globe's wildlife and terrain.

The Travel Book
Lonely Planet's book with photos and text on great travel destinations.

Wide Angle
Pictures by National Geographic's photographers.
See my other Top 10 lists


Man Made Wonders
Natural Wonders

Wonders of Africa
Wonders of Asia
Wonders of Europe
Wonders of North America
Wonders of South America


Bizarre Festivals
Carnivals
Classical Music Festivals
Film Festivals
Rock/Pop/Jazz Festivals

Adventure Travel Books
Art Museums
Best Cities for Travelers
Best Countries for Travelers
Car Race Events
Dive Destinations
Explorers
Houses of Worship
Most Famous Beaches
Most Visited Cities
Most Visited Countries
Movies with Travel
Romantic Islands
Sights in the Sky
Sports Events
Travel Health Mistakes
Travel Photo Mistakes
Travel Photo Selfies
Travel Pre-Trip Mistakes
Travel Safety Mistakes
Travel Songs on Cities
Travel Theft Mistakes
US National Parks
World Cuisines



World's Top 100 Wonders
World's Top 1000 Wonders
Site map
My credentials
About my website and criteria
Reader testimonials