Top 10
South America
wonders

rankings you can trust
Top 10 rankings
South America wonders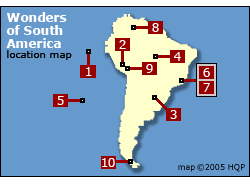 Galapagos Islands


Machu Picchu


Iguazu Falls


Amazon Rain Forest


Easter Island


Rio panoramic views


Carnival in Rio


Angel Falls


Cuzco


Torres del Paine
Brief decriptions

Galapagos Islands

These are the remote Pacific Islands that helped Charles Darwin develop his now famous evolution theory in the early 1800s. The unique Galapagos Islands wildlife species that he observed are still there, waiting for vacationers on cruise boats to rediscover.

Pacific off Ecuador mainland.


Machu Picchu

The ruins sit picturesquely on an isolated mountain saddle (see photo in left column). Machu Picchu, a pre-Columbian stronghold, was abandoned and forgotten for centuries until 1911 when it was discovered buried under dense greenery.

Peru.


Iguazu Falls

Iguazu Falls plummets over a 3 kilometer (nearly 2 mile) rim into a deep gorge. The Devil's Throat section is particularly breathtaking.

Argentina & Brazil.


Amazon Rain Forest

The Amazon Rain Forest is a vast jungle networked by mighty rivers and small tributaries - and the home of exotic vegetation and wildlife.

Mainly Brazil & Peru.


Easter Island

Easter Island is famous for it numerous head statues chiseled from volcanic rock. Why the ancient islanders of this remote location carved them is an enigma.

Pacific off Chile mainland.


Rio panoramic views

The Rio de Janeiro city and bay collectively provide two of the world's most splendid vistas, one from Corcovado Mountain and the other from the Sugar Loaf pinnacle.

Brazil.


Carnival in Rio

A million tourists and cariocas (Rio de Janeiro citizens) participate in the merrymaking in lively street parades and masquerade balls at carnival time.

Brazil.


Angel Falls

It is by far the world's highest waterfall. The isolated location of Angel Falls helped keep this wonder a secret from the outside world until the 1930s.

Venezuela.


Nazca Lines

The Nazca Lines are geometric shapes and animal figures etched into a huge expanse of a desert floor by an ancient civilization. These artworks are so large that they can be recognized from the air, but not on ground level.

Peru.


Torres del Paine

The Torres del Paine National Park near the southern tip of South America is blessed with wondrous mountains, among other natural beauties.

Chile.

See my other Top 10 lists


Man Made Wonders
Natural Wonders

Wonders of Africa
Wonders of Asia
Wonders of Europe
Wonders of North America
Wonders of South America


Bizarre Festivals
Carnivals
Classical Music Festivals
Film Festivals
Rock/Pop/Jazz Festivals

Adventure Travel Books
Art Museums
Best Cities for Travelers
Best Countries for Travelers
Car Race Events
Dive Destinations
Explorers
Houses of Worship
Most Famous Beaches
Most Visited Cities
Most Visited Countries
Movies with Travel
Romantic Islands
Sights in the Sky
Sports Events
Travel Health Mistakes
Travel Photo Mistakes
Travel Photo Selfies
Travel Pre-Trip Mistakes
Travel Safety Mistakes
Travel Songs on Cities
Travel Theft Mistakes
US National Parks
World Cuisines



World's Top 100 Wonders
World's Top 1000 Wonders
Site map
My credentials
About my website and criteria
Reader testimonials