Top 10
Europe wonders

rankings you can trust
Top 10 rankings
Europe wonders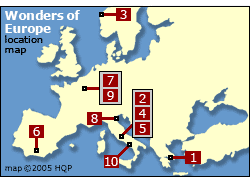 Brief
descriptions

Acropolis / Parthenon

The Acropolis is a 5th century BC temple complex. The ruins strategically sit on a large rock outcropping overlooking the city. The Parthenon temple (dedicated to goddess Athena) is the most magnificent structure.

Athens, Greece.


Colosseum of Rome

It was built in the first century BC to entertain the masses with gladiator fights and lavishly staged shows. The historic Colosseum of Rome ruins are in outstanding shape for being a 2,000 year old arena.

Rome, Italy.


Fjords of Norway

The lengthy, enormous, steep sided Fjords of Norway were carved out of the mountains by ancient glaciers. They are best viewed from a ship (the most popular sightseeing venue) and from mountain top lookouts accessed via trails.

Norway's coast.


St. Peter's Basilica

The sizeable, artistically designed St. Peter's Basilica (a church) is the religious heart of Roman Catholics worldwide. Famous focal points include Michelangelo's beautiful Pieta marble statue and his commanding dome that crowns the Basilica.

Vatican City.


Sistine Chapel

The Sistine Chapel in Vatican City is the home of Michelangelo's masterpiece frescos, "Genesis" and "The Last Judgment". Cardinals convene here to select new popes.


Alhambra

This palace fortress is ornate in a gracefully delicate manner. Its fountain courtyards are among its celebrated architectural masterpieces. The Alhambra sits on a hill overlooking the city.

Grenada, Spain.


Louvre Museum

One of the two greatest museums in the world. Renowned masterpieces in the Louvre Museum include Leonardo da Vince's "Mona Lisa" painting and the Hellenistic "Venus de Milo" marble statue.

Paris, France.


Canals of Venice

Venice is famed for its picturesque narrow canals and romantic gondola rides accompanied by singing gondoliers on moonlit nights.

Northeast Italy.


Versailles

Versailles was the former palace and administrative helm of King Louis XIV in the 17th century. It is gargantuan yet elegant - and is relatively well preserved.

Near Paris, France.


Pompeii

Pompeii was a major 2,000 year old city that was suddenly buried under volcanic ash, then forgotten for over 1500 years. Much of it has now been excavated, exposing the expansive ruins.

Southern Italy.

See my other Top 10 lists


Man Made Wonders
Natural Wonders

Wonders of Africa
Wonders of Asia
Wonders of Europe
Wonders of North America
Wonders of South America


Bizarre Festivals
Carnivals
Classical Music Festivals
Film Festivals
Rock/Pop/Jazz Festivals

Adventure Travel Books
Art Museums
Best Cities for Travelers
Best Countries for Travelers
Car Race Events
Dive Destinations
Explorers
Houses of Worship
Most Famous Beaches
Most Visited Cities
Most Visited Countries
Movies with Travel
Romantic Islands
Sights in the Sky
Sports Events
Travel Health Mistakes
Travel Photo Mistakes
Travel Photo Selfies
Travel Pre-Trip Mistakes
Travel Safety Mistakes
Travel Songs on Cities
Travel Theft Mistakes
US National Parks
World Cuisines



World's Top 100 Wonders
World's Top 1000 Wonders
Site map
My credentials
About my website and criteria
Reader testimonials